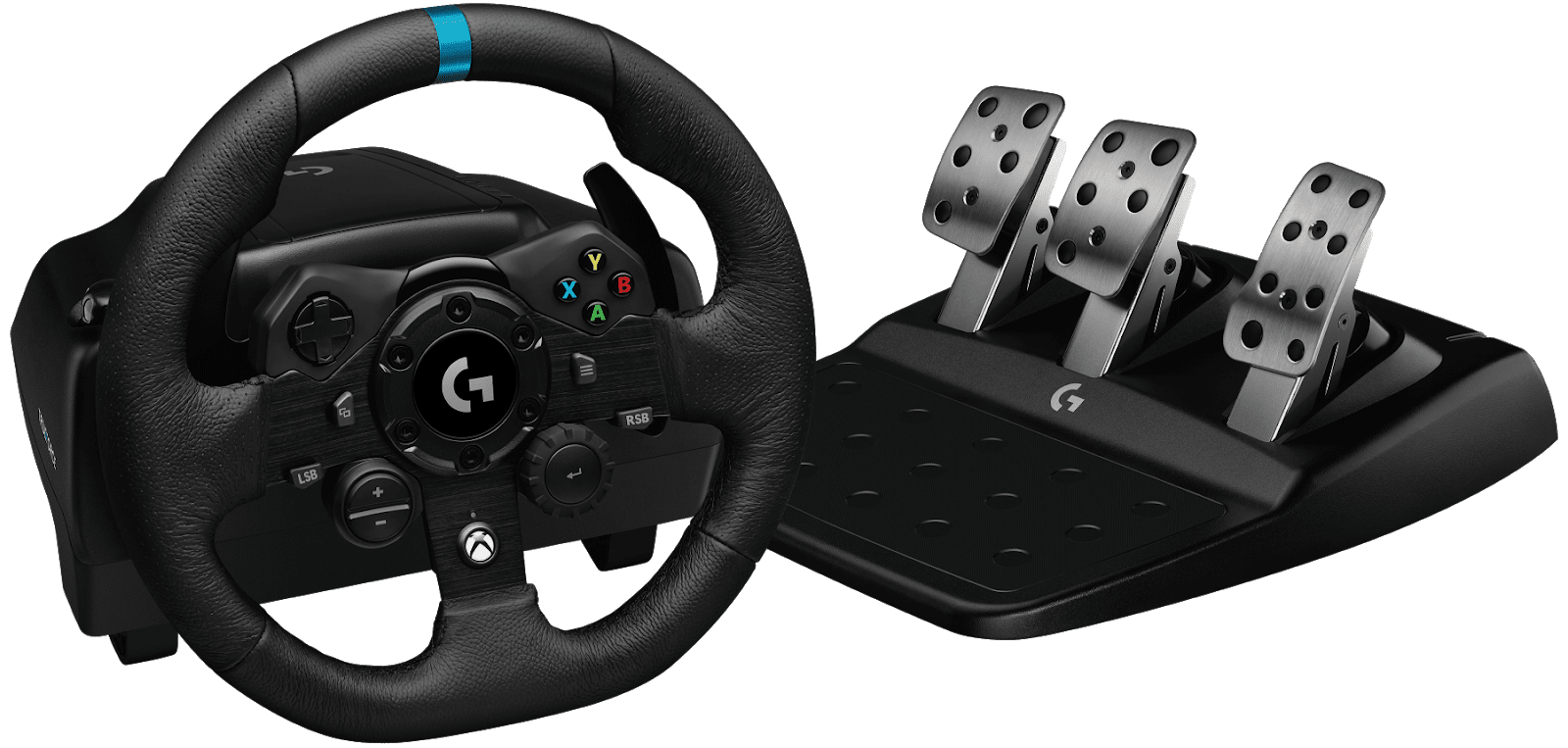 Should You Buy The New Logitech G923 Sim Racing Wheel?
Logitech have just released the G923 – a new racing wheel for Xbox, PS and PC. 
The G923 is an upgrade on the popular mid-range G29 and G920, and is the first new racing wheel from Logitech in the past five years.
So, how does the G923 compare to its predecessors?  
And is it worth the increased price tag?
We'll dive into these questions and more as we take a look at the latest sim racing wheel from Logitech.
Logitech Have Stuck With The Tried-And-Tested Design – But Made A Few Minor Upgrades Beneath The Hood
If you've seen the G29 and G920, then you pretty much know already what the G923 looks like. 
It's basically the same in shape, size and build quality.
Seriously, look at the image below. If you've been in and around the sim racing world for a while now…you'll strain your eyes trying to find any differences…
The button layout is almost identical, the wheel is the same diameter and thickness and the cover is made from the satisfying hand-stitched leather we loved from previous Logitech wheels (though the quality of the stitching has been improved for greater durability).
There have been a few minor changes – the shifter paddles now have a powdered black finish instead of bare aluminium, for instance – but overall the external differences are so minor those who aren't familiar with the G29/G920 wouldn't be able to tell the difference.
Logitech have clearly gone with the motto of 'if it's not broken, don't fix it.' 
And it's hard to argue with them, given the G29/G920 has been such a popular mid-range option for sim racing fans over the past five years.
So, while the similar design of the G923 should please loyal users, Logitech aren't likely to win any new fans.
Not from the outside, at least.
The Internal Upgrades Give You A More Immersive Racing Experience And Greater Control When Braking 
While it looks like a long-lost twin from the outside, internally Logitech have made some changes worth talking about. 
Firstly, there is a new progressive spring in the brake pedal.
A progressive spring is when the first part of the spring is not as tightly coiled as the second part – so the spring rate changes as you compress it.
In other words, the more you push down your foot on the brake, the more resistance you will feel.
This allows for greater control, making it easier to find that ideal resistance point in braking and stop it from locking up.
While this is a welcome alteration, it's not going to make you rush out to the store and purchase the wheel straight away.
The real difference between the G923 and the G29/G920 is TrueForce, a game-changing experience for those who love true immersion racing.
TrueForce Delivers A Highly Immersive Experience That Brings The Racetrack Into Your Living Room
As a sim racing fan, you've probably used wheels with force feedback before. The aim behind is to replicate real-world driving conditions. 
You can feel vibrations through your wheel when the terrain changes, you hit a bump or a curb or turn around a bend.
But what's so special about TrueForce when compared to regular force feedback systems?
Well, the truth is that most racing wheels with force feedback use 20-year-old technology.
That means carefully calculated physics from sim racing games have to be simplified before you can feel the vibrations through your racing wheel. The result can be a little underwhelming.
TrueForce, on the other hand, delivers directly rendered kinaesthetic and tactile force feedback right to your G923 racing wheel. This gives you an immersive racing experience far closer to real life – which, after all, is what sim racing is all about. 
The differences are noticeable – TrueForce certainly makes sim racing more realistic and gives you that added thrill as you fly around the track.
You can feel the power when you rev the engine and you notice subtle changes in the road when you are driving. 
You just feel more connected to the road and can make faster reactions as a result. 
Once you get used to it, you could even see marginal improvements in your lap time as a result – though it's probably not a substantial enough difference to see you set a new personal best every single day.
The main drawback with TrueForce at the moment is integration.
Upon release, its only supported by a handful of games – GRID, Assetto Corsa Competizione, and Gran Turismo Sport.
According to Logitech, other popular sim racing games iRacing, F1 2020, and Dirt Rally 2.0 plan to add compatibility in September 2020. 
Hopefully more will follow suit – as they do, the allure of this racing wheel will certainly gain traction.
Let's Cut To The Chase – Should You Buy It?
Like most sim racing gear, the answer to this question depends on your personal preferences, budget and current rig.
If you're rocking a G29/G920 from five years ago that's in top condition and you're still loving it, it's probably not worth forking out the extra money for the upgrade.
Logitech wheels are very durable – some people are even still using their G27 from ten years ago – but if yours has worn out, or you just want to spoil yourself and buy a new wheel, then the G923 is a great option.
Similarly, if you're still using a controller and are in the market for a reasonably cheap sim racing wheel which gives you a realistic experience, then this is a quality option from a reliable brand.
When it comes down to it, the main difference between the G29/G920 and the G923 is TrueForce. If you don't think that feature is worth the increased price, you could consider just buying a G29/G920 instead. They're quality, affordable sim racing wheels and may become even cheaper as the G923 becomes widely available.
In Summary, Here's What We Like And What We Don't Like About The G923 Sim Racing Wheel
We Like:
The new TrueForce technology is exciting and offers an awesome immersive driving experience, something that should only improve as it becomes supported by a wider range of racing games.

The build quality is very robust, making it a good long-term investment – as you'd expect from a Logitech wheel.
We Don't Like:
There is not a lot of innovation or new features added, which probably isn't enough to justify upgrading from the G29/G920.

The RRP of $597 is a bit more than what we'd like – you're essentially paying the extra $100 or so for better force feedback 

It's quite noisy, especially with TrueForce turned on – when you mute your TV there is a decent amount of sound coming from the wheel itself
If you're interested in buying the Logitech G923 sim racing wheel for PS4 PS5 or PC, CLICK HERE. For Xbox and PC, CLICK HERE.
With shipping available to anywhere in Australia, you could have your new sim racing wheel sitting in your lounge room in just a few days!