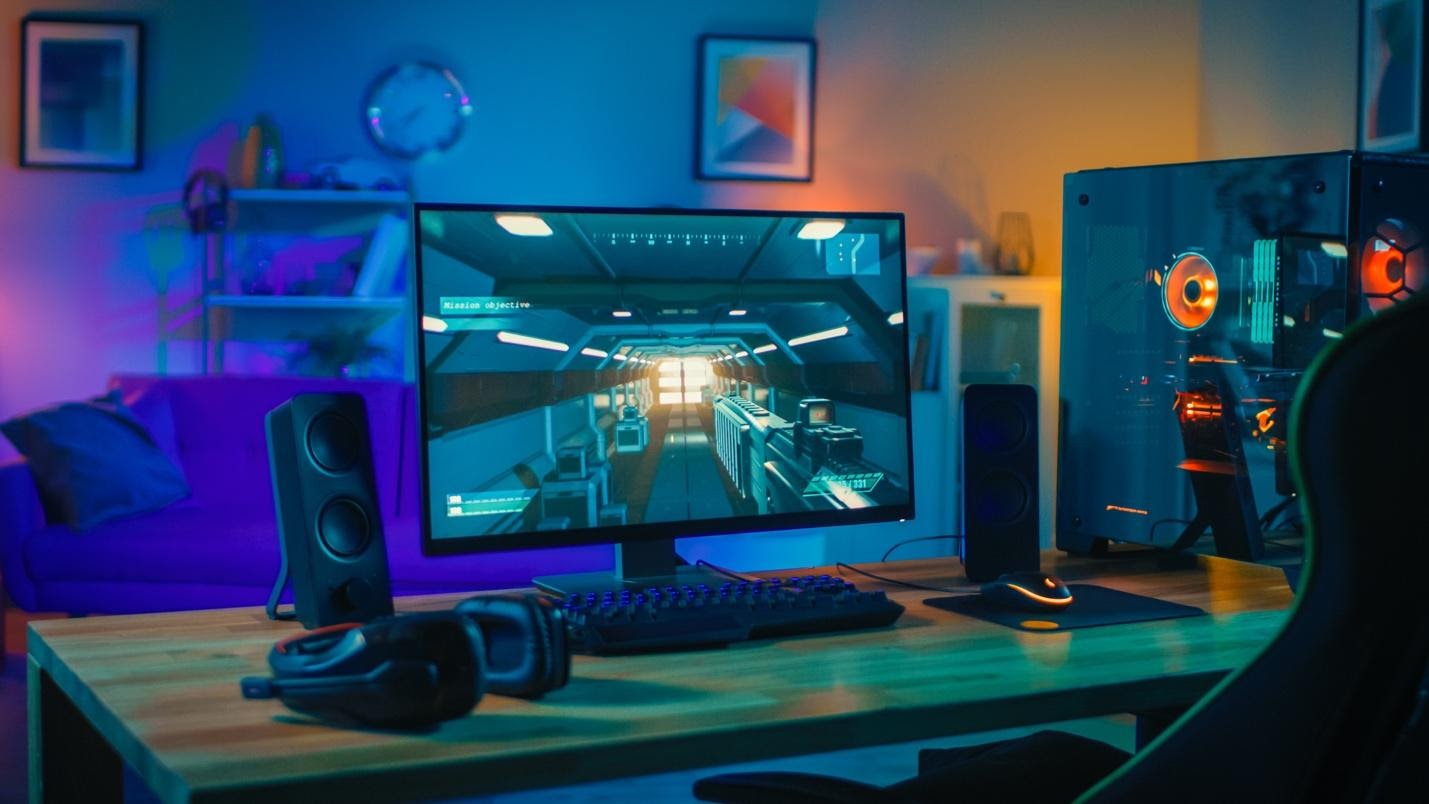 What's The Best Ultra-Wide 49 Inch Gaming Monitor For Sim Racing?
Monster gaming monitors are a dime-a-dozen these days. 
Every second day it seems like there's a new entry in the ultra-wide end of the best gaming monitor market. Most come hand-in-hand with some fancy new technology that promises a more immersive gaming experience. With so many models, jargon and acronyms buzzing around, it's easy to feel overwhelmed. 
What is important to remember is that there are some key factors you need to be across in order to ensure you're buying a solid big-screen display, suited for racing & flight sims. 
In this post, we're going to outline what those factors are. We're also going to provide you with some recommendations for what we feel are the best 49 inch gaming monitors on the market right now.
WARNING: Pick the right monitor for your needs (or you could regret it big time!
Building a racing sim rig is a costly endeavor that can easily go awry when you don't pick up the hardware that best suits your needs. 
What makes racing sims different from other games is that they aim to be as immersive an experience as possible. 
That means they need to feel realistic not just on-screen but in their gameplay as well. 
That's why you spend so much damn money on other equipment like steering wheels, peddles and bucket seats. However, if you're going to put in a good chunk of money for a monitor, you have to make it count.
For this article, we've picked three 49 inch gaming monitors. We've chosen them as being some of the best in the market for racing sim aficionados such as yourself.
Here are the elements that factored into our choices:
Response time

- You might have heard about display lag. In a nutshell, it's the amount of delay between actions happening in the game and when you see them on-screen. For sim racing drivers who take their experience seriously, even a slight change in the delay is a big deal. There are a number of things one can do to reduce this delay but they're beyond the scope of this article. The best starting point is your choice of monitor. For our selection, we've aimed for screens that don't go over a 4ms response time.

Refresh rate

- Racing sims are all about speed which means your reactions have to be on point. The last thing you want is to turn at the wrong moment when you hit the next hairpin. You'll be wondering, "isn't this covered by response time?" Not entirely. Response time is one piece of the puzzle. The other piece is the refresh rate of your panel. Monitors essentially display images changing in rapid succession. In order to achieve this as quickly as possible, they refresh what is being displayed. The faster this happens, the quicker you see what's going on. This is why high refresh rates are coveted by hardcore gamers and that include racing sim folks like us. For our list, the minimum refresh rate we shot for was 120Hz. This means the monitor will refresh 120 times each second.

Curved display

- As we've mentioned a few times in this article, racing sims are immersive experiences. Naturally, the ultimate experience comes from running a VR rig but that can be astronomically pricey. If you're also prone to motion sickness it may not be the best option. The next best thing is to have a curved display. These monitors use specialised perspective technology to enable an immersive experience that cannot be achieved with a regular flat panel. The added bonus of a curved monitor of a large size is it eliminates the need to buy more than one, a big relief for your wallet.

Slim bezels - This factor is like icing on the cake for some but it's actually essential to enhance the immersion level of a racing sim experience. For monitors that are large where your eyes will usually be forward, the bottom bezel can be a bit chunkier. The main focus is the side and top bezels as your eyes will be darting in those directions.
Let's face it…a Godzilla-sized, 49 inch monitor is a bloody good way to enjoy all your sim gaming activities
As long as you're picking a monitor with the aforementioned specifications, you'd be able to create a kick-ass experience. 
49-inch monitors, however, have a few key advantages that just complement a racing sim rig perfectly. For one, you have a lot more screen real estate to go by. As it's all about that 4K these days, bigger panels will always be better at displaying the finer details of your game. 
More importantly, bigger monitors mean more of the outside world around you gets blocked out. 
It's not the same as VR but it's the next best thing in terms of immersion. 
Finally, a 49-inch display eliminates the need for additional monitors because they have a much more encompassing curve.
Now that we've covered all the nitty-gritty, let's have a look at our top 3 picks for the best 49 inch gaming monitors for sim enthusiasts.
ASUS ROG Strix XG49VQ Super Ultra-Wide HDR Gaming Monitor
ASUS has become one of the powerhouses when it comes to monitors in the Republic of Gamers line.
The ROG Strix XG49VQ sits as one of our prime choices in this category because it ticks all of the boxes we've mentioned as well as offer some of its own features that set it apart from the rest. 
For one, it takes advantage of Radeon's Freesync2 technology which varies your refresh rate based on your graphics card performance. This eliminates any desynchronization between the frames-per-second of your card which could potentially kill some of your immersion factor. 
Colours on this beast of a panel look radiant and true thanks to its Vesa Certified DisplayHDR 400 high dynamic range. ASUS's offering also makes use of Shadow Boost technology to ramp up the contrast and add an even more realistic sense of depth in its images.
Specialty:
Refresh rate: 144Hz

Response time: 4ms

DCI-P3: 90%

Resolution: 3840 x 1080

Connectivity: 2x HDMI (HDR), 2x USB 3.0, DisplayPort 1.2

Other: Flicker-free, Ultra-low blue light, game overlay, picture-by-picture
That's the first monster monitor down…here's the next…
AOC AGON AG493UCX
A bit of a lesser-known player in the monitor market but worth mentioning here for their stellar 49-inch curved display. 
Compared to the ASUS offering, it's got a much lower response time of just 1ms, comparable to flat TN panels in performance. 
On the flip side, it's got a lower refresh rate at 120Hz. One other key difference is its USB-C connectivity which provides some of the fastest data transfer rates available. This, of course, would mean that your PC needs to be equipped with a USB-C port that's DisplayPort Alt Mode compliant.
Aoc gaming simulator most intriguing feature is its Low Input Lag mode that further supports the already existing low latency technology on this panel. 
It's absolutely perfect during even the most intense racing circumstances. 
This gaming monitor is also Vesa Display HDR Certified and at a slightly higher DCI-P3 of 93% compared to the ASUS. A superb panel that shouldn't be underestimated.
Specialty:
Refresh rate: 120Hz

Response time: 1ms

DCI-P3: 93%

Resolution: 5120 x 1440 (DQHD)

Connectivity: 2x HDMI 2.0 (HDR), 2x DisplayPort 1.4 (HDR), USB-C (DP Alt)

Other: Adaptive sync, picture-by-picture/picture-in-picture
And finally…
#1 Samsung 49" CHG90 Super Ultra-wide Curved QLED Monitor
One of the pioneers of market-ready curved displays, Samsung has quite the beast in terms of specs and style in the 49-inch range. 
The CHG90 is a QLED panel which means you'll be getting some amazing color range with vibrant high tones that don't overpower your darks.
This is all thanks to Samsung's QLED Metal Quantum Dot technology, promising deep blacks and brilliant whites. 
Though this monitor lacks a Vesa Certification, if true-to-life colors are important for your racing sim experience, this monitor should still be of high consideration. 
It's high 144Hz refresh rate promises smooth-as-butter gameplay without compromising your reaction time. 
It also has dedicated gaming profiles for any type of game you might be playing, including racers, though for serious types you can set your own. 
Finally, the CHG's black equalizer makes objects in the distance more prominent that way you can avoid collisions and race with confidence. 
Let's not forget the thin bezels that just further enhance the experience. Solid pick, though can be pricey.
Specialty:
Refresh rate: 144Hz

Response time: 1ms

DCI-P3: -

Resolution: 3840 X 1080

Connectivity: 2x HDMI 2.0 (HDR), 1x DisplayPort 1.4 (HDR)

Other: Freesync, way too many PiP/PbP options
Which of these 49 inch BEASTS should you add to your sim rig?
It all boils down to a number of factors. 
All three of these panels will deliver the performance you need for a fully immersive racing sim experience. 
The devil is in the details and the absolute best 49 inch gaming monitor depends on what you value the most. 
Naturally, your budget will be a factor as well. 
If you've got a DP Alt Mode powered USB-C port, the AGON will definitely deliver the fastest response performance of the bunch. 
However, its refresh rate is low even with its Adaptive Sync. For powerful colors and great visual fidelity, the ASUS will deliver. 
The Samsung gaming monitor will do so as well but with fewer options in terms of HDR tech.