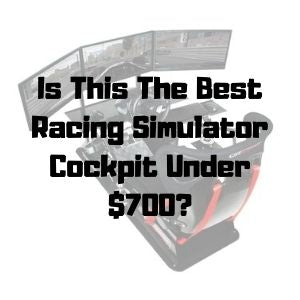 Is this the best racing simulator cockpit under $700?
GTR Simulator—GTA Racing cockpit
GTR Simulator is known for designing some of the best value racing simulator setups out there. And their GTA lineup of sim rigs is recognized as one of the best, adjustable, and sturdy chassis you can buy on a budget.

The GTA racing simulator was designed to replicate a real racing experience as much as possible.


And the team at GTR Simulator have delivered!

They took advice from professional racers such as Kevin Naichai (GP2 Racer) and Diego Duez (factory VW racer) to give you that blood pumping, life on the line experience right from the comfort of your living room.

The GTA is packed with all the comforts and adaptability, you could ever need in a racing simulator cockpit.
How does the GTR Simulator GTA sim rig stack up on compatibility?
The GTA racing simulator cockpit is oozing with compatibility.

All your favourite electronics from the biggest brands you can name will bolt straight onto this rig. Including all the big brand wheels and pedals from…
Thrustmaster
Logitech
Fanatec
And more!
Add to that, the ergonomic design gives you plenty of legroom to stretch and adjust everything according to your size and height.

With the GTA, you can adjust and customize the distance of all the important bits and pieces like the racing seat, which is four-way adjustable (including recline).

You can use this to get that perfect recline for the best view of the screen and race the way that you think will give you the best immersion.

You also get the option to adjust the pedal mount. And then, you can even adjust the gear shift adapter that's included with the GTA cockpit package.
GTR Simulator knows what you want, and they are ready to deliver it for you
The GTA racing cockpit is a complete, all-in-one package that includes everything you need for a budget-friendly $679 (includes FREE shipping).


Plus, the racing seat that GTR Simulator have included with their GTA racing cockpit is incredibly comfortable and super-high quality.

It has ample padding and is covered with smooth, hardwearing, stain-resistant, and easy to clean material that will last you a lifetime.

Our favorite part of the GTA racing cockpit is that it is extremely simple to assemble. It comes with easy to read, easy to follow instructions that you can use to put together your new racing set up without any hassle, on your own.
GTR Simulator's GTA racing simulator cockpit is built to last
Most cheaper racing cockpits are made of cheap and ugly materials.

The GTA racing cockpit is different.


It is incredibly sturdy, and why wouldn't it be.

It is made with ultra-strong, high-grade steel and is professionally welded together to give the GTA extra durability and toughness that is unmatched by any other racing simulator cockpit available at this price point.

Don't worry if you're a bit rough with the GTA racing simulator, as it can easily handle all your sharp turns, heavy brakes and knuckle-crunching gear shifts without missing a beat.
A serious-looking racing simulator cockpit that's suited to seasoned and noob sim racers alike
The GTA racing cockpit looks incredibly tactile and blends really well in a living room gaming setup environment.

The frame is also scratch-resistant. It features powder coated paint so that even if you have kids running around and accidentally hit it with something, the paint won't come off, and your racing setup will look as good as new, even after extensive use.

What this means is that your new GTA racing simulator looks awesome now…and it will stay that way for years to come.
All your critical mounts are pre-drilled for maximum compatibility
The GTA racing simulator, as we mentioned, is a complete package containing everything you need to start racing right out of the box, including…
Gear shifter mount (suitable for all the big brands)
Adjustable steering wheel mount
Racing seat with built in slider that reclines
Pre-drilled pedal mount suits most pedal brands and styles on the market 
But GTR Simulator have gone the extra mile and pre-drilled all your critical mounts (wheel, pedals and shifter) to direct fit the most popular models from all the big simulation electronics brands including Thrustmaster, Logitech & Fanatec.

That means you don't need to mess around with a drill to bolt on your wheel and pedals.

Just bolt on your gear using the pre-drilled holes…and you're done!
Check this out: Industry leading 10-year warranty (gasp!)
Pick your jaw up from the floor…and rub your eyes clean.
What you just saw is not a mirage. 
GTR Simulator give you a crazy-awesome 10-year extended warranty on the GTA frame…and 5-years on the seat.
There is no other racing simulator manufacturer on the planet offering extended guarantees like that…and it shows you how much faith GTR Simulator have invested in the quality of their gear.

You simply won't find a racing simulator cockpit of this first-class quality, backed by a 10-year warranty, for under $700 anywhere else in the country.

So, if there's any defects or issues with your GTA racing simulator inside those 10 years. If it's not performing as it should, GTR Simulator has got your back.
Hands down the BEST racing simulator you can buy for under $700
Hand on heart, we believe the GTA is the best racing simulator you can buy for under $700.

There's no comparison. You've got a highly adjustable, highly compatible sim rig, backed by a 10-year warranty for just $679 (including free shipping).

That's a dead-set bargain. We're sure you'll agree.

Buy now and you won't be disappointed. In fact, we reckon you'll be over-the-moon happy with your GTA racing cockpit every you time you lay eyes on it.

We can ship your GTA direct to your door anywhere in Australia. Order now and you'll have your new GTA sitting in your lounge room inside a few days.

For more details on the GTA racing simulator cockpit CLICK HERE.