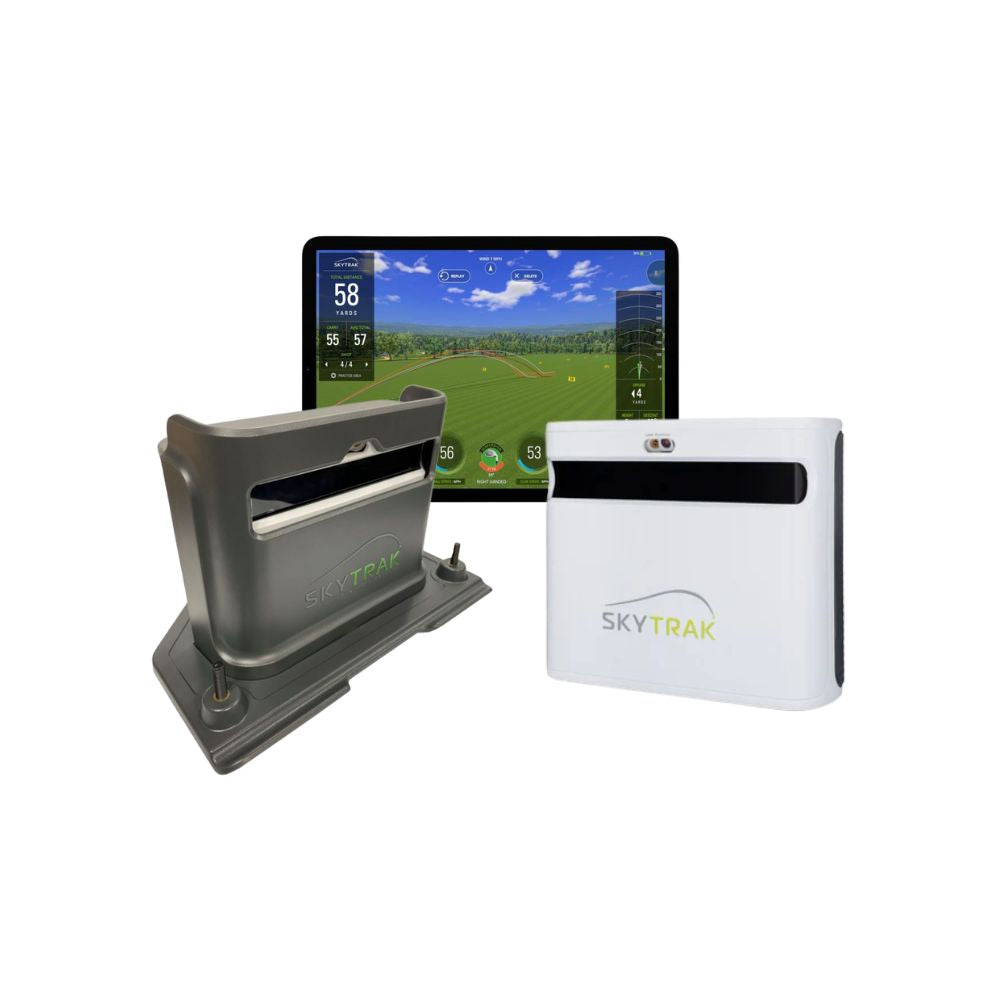 Description

Specifications

What's In The Box?

Reviews

Warranty

Shipping

Why Buy From Us?
The SkyTrak Plus launch monitor is an evolution in golf simulation and launch monitor technology
Experience unprecedented accuracy and game improvement potential with the SkyTrak Plus launch monitor. This innovative golf tool is packed with cutting-edge features designed to elevate your golfing experience and performance.


The new SkyTrak+ brings major advancements in its core technology by adding a dual doppler radar system and proprietary machine learning software - to offer unmatched accuracy in its class.

The radar addition brings club data to the forefront of the experience - giving SkyTrak users a vital data point for game improvement. More big innovation comes in the new and improved SkyTrak ShotOptimizer and Shot Score functionality. You can now measure yourself against optimal shots and golfers of all skill levels pulled from our database of millions of golf shots.

Your SkyTrak+ launch monitor purchase includes a genuine SkyTrak+ protective case (required for warranty purposes) and a 12 month subscription to the Game Improvement Plan software.

Unlock your full potential with the SkyTrak Plus Launch Monitor and transform your golf game today.
Key features
Dual doppler radar: Get critical club data such as Club Head Speed, Smash Factor, Club Path, and Face Angle, empowering your game improvement journey
Improved photometric camera system: Enjoy highly accurate and reliable ball tracking data to power your practice and improvement, both indoors and outdoors
Access over 100,000 golf courses: Play on the world's most renowned courses, such as Pebble Beach, St. Andrews, and Torrey Pines, from the comfort of your home
Official SkyTrak+ protective case INCLUDED: Not only does the case protect your launch monitor, the case is a requirement for warranty purposes
Game Improvement Plan software (12 month subscription) INCLUDED: GIP software unlocks all core SkyTrak+ features including the ability to plug-in golf simulation software like TGC 2019 or E6 Connect
In-depth practice and improvement: Master your game with features like driving range practice, skills assessment, bag mapping, randomised practice, and a wedge matrix for fine-tuning your scoring clubs
New and improved shot optimizer interface: Analyse your club and ball data against optimal launch conditions with our easy-to-understand red, yellow, and green scoring system
New shot scoring: Measure your progress by comparing your performance against other players at various skill levels with the SkyTrak Shot Optimizer
Proprietary machine learning software: Achieve unmatched accuracy in its class, rivalling the highest-end launch monitors on the market
Play with friends from home: Instantly transport to courses around the world and enjoy friendly competitions, all from the comfort of your living room
Access to top golf simulation software: Enjoy packages for leading sim partners like E6 Connect, WGT by TopGolf, The Golf Club 2019, and more
Endorsed by Golf Digest's #22 teacher: Benefit from informational tutorials by renowned golf instructor Nick Clearwater
Shop with confidence: Backed by a 12 month limited warranty
Unmatched accuracy with dual doppler radar
The SkyTrak Plus launch monitor is equipped with a cutting-edge dual doppler radar system, providing you with unparalleled accuracy in club data measurement. This innovative technology provides you with critical club data measurements that were once reserved for elite players and coaches.

But, what does this mean for you as a golfer? Well, this top-of-the-line radar system allows you to monitor vital data points like club head speed, smash factor, club path, and face angle with unmatched precision. With this information at your fingertips, you can make informed adjustments to your swing and technique that will ultimately lead to better results on the course.

Another benefit of the dual doppler radar is its ability to track your shots in real-time. This means you get instant feedback on every swing you take, helping you identify areas of improvement right away. Plus, you'll have access to all this valuable data through a user-friendly interface, making it easy to track your progress and fine-tune your game.
Advanced photometric camera system
You're out on the range, practising your swing, and you want to know if you're making progress. But how can you be sure without reliable data on your shots? Enter the SkyTrak Plus launch monitor's advanced photometric camera system. A game-changing feature that ensures you're getting the most accurate and reliable ball tracking data possible.

The photometric camera system captures high-speed images of your ball's trajectory and spin, allowing the SkyTrak+ launch monitor to analyse your shots with pinpoint accuracy. This means you can trust the data you're getting, which is crucial when making adjustments to your swing and technique.

But wait, there's more! The camera system isn't just for indoor use. It's also designed to perform exceptionally well outdoors, even when you're hitting off mats. This versatility ensures that you can work on your game wherever you are, without compromising on the quality of your practice sessions.
Machine learning for precision performance
The magic of machine learning lies in its ability to analyse vast amounts of data and draw meaningful insights from it. In the case of the SkyTrak Plus launch monitor, this means it can take the wealth of information gathered by its dual doppler radar and advanced photometric camera system and turn it into actionable feedback for you, the golfer.

By leveraging proprietary machine learning algorithms, the SkyTrak Plus launch monitor delivers a level of precision that rivals even the highest-end launch monitors on the market. This means you get access to data-driven insights that can help you fine-tune your swing, improve your shot consistency, and ultimately, lower your scores.

But the best part? The machine learning capabilities of the SkyTrak+ launch monitor are always evolving. As it processes more and more data from golfers around the world, the system continually refines its algorithms, ensuring that the feedback you receive remains relevant, accurate, and tailored to your specific needs.
Play on world-class golf courses
With access to over 100,000 golf courses, including some of the most prestigious and legendary tracks in the world like St. Andrews, Pinehurst, Bandon Dunes, and Torrey Pines, the SkyTrak Plus Launch Monitor offers an unparalleled golf simulation experience. You'll be transported to the fairways and greens of the world's best courses, giving you the chance to test your skills against the same challenges faced by the pros.

But it doesn't stop there. The SkyTrak Plus launch monitor also provides compatibility with leading golf simulation partners like E6 Connect, WGT by TopGolf, and The Golf Club 2019. This means you'll have access to even more stunning, realistic, and immersive golf courses, ensuring that your virtual golf adventures are as exciting and diverse as possible.

The best part about playing on these world-class courses is that you can share the experience with your friends! Challenge your buddies to a round of virtual golf, compete in online tournaments, or simply enjoy a casual round together—all without having to leave your home.
Improve with shot optimizer and scoring system
The shot optimizer is like having a personal golf coach in your pocket. This fantastic feature allows you to view and analyse all of your club and ball data against optimal launch conditions. With its easy-to-understand red, yellow, and green scoring system, you'll instantly know how close your numbers are to those of the best players in the world.

The shot optimizer interface also features invaluable tutorials from Golf Digest's #22 teacher in the world, Nick Clearwater. With expert guidance at your fingertips, you'll gain insights and tips on how to fine-tune your swing and improve your overall game.

Now let's talk about the scoring system. The SkyTrak Plus launch monitor's shot score feature allows you to determine your expected distance by hitting 20 shots with any club. This data is then used to measure subsequent shots, providing you with a Shot Score that compares your performance against golfers of various skill levels. By objectively measuring your golfing ability and predicting your expected performance in an 18-hole round, the shot score helps you track your progress and identify areas for improvement.
Easy setup and installation
We know you're eager to start playing and improving your golf game with the SkyTrak Plus launch monitor, and the good news is that setting it up is a breeze.

Forget about complicated installations or lengthy setup processes - we're talking about a smooth, user-friendly experience that will have you swinging in no time.

Just connect your SkyTrak Plus to your device (smartphone, tablet, or computer). The device's built-in Wi-Fi ensures a seamless connection, and the accompanying app is compatible with a wide range of devices, including iOS, Android, and Windows. Just download the app, follow the step-by-step instructions, and you'll be connected in no time.
Official SkyTrak+ protective case INCLUDED
The SkyTrak+ launch monitor protective case is not just a case, it's like a bodyguard for your launch monitor, ensuring it stays pristine and performs at its best every time you play. The best part? It's included as part of your SkyTrak+ purchase.

Manufactured to perfection, this case is specifically designed to safeguard your SkyTrak+ launch monitor against the odd bumps and drops that can happen in the excitement of the game. We understand that life happens, and this case is our way of making sure your golfing experience remains uninterrupted, no matter what. Crafted from heavy-duty, impact-resistant materials, it offers unparalleled protection, while the precision cut-outs provide easy access to all the features you love about your SkyTrak+.

But here's the kicker: not only does this protective case give you peace of mind, it's also a requirement for your SkyTrak+ warranty. We want your launch monitor to stay in tip-top shape, and this case is the secret sauce to ensuring that. So when you invest in SkyTrak+, you're not just getting the most advanced launch monitor on the market, you're also getting a protective case that guarantees its longevity and enhances its performance.
Game Improvement Plan subscription INCLUDED
The SkyTrak+ launch monitor is not just a golf swing analyzer, but a full-fledged, high-tech training tool built to help golfers understand their game on a deeper level. To enhance your experience and ensure you get the most out of your SkyTrak+ device, you'll receive your a 12-month subscription to the Game Improvement Plan software with your purchase. This software plan is the key to unlocking all the core features that SkyTrak+ has to offer. 

The Game Improvement Plan software is a comprehensive suite that allows you analyse detailed shot data and analytics, practice range functionality, skills assessment, bag mapping, and progress tracking. 

In addition to the core features, the Game Improvement Plan opens up a world of golf simulation possibilities. You can plug in popular golf simulation software like The Golf Club 2019 (TGC 2019) and E6 Connect, effectively transforming the SkyTrak+ launch monitor into an immersive, virtual golf experience. 
Technology: High Speed Cameras and Doppler Radar

Indoor/Outdoor: Both indoor and outdoor

Space Requirements: Enough Space to Swing Your Club

Device Compatibility: PC, iOS, Andorid

Software Compatibility: TGC, E6 Connect, WGT, GSPro

Dimensions: 17.80cm (H) x 20.30cm (W) x 7cm (D)

Weight: 1.35kg

Warranty: One Year Warranty
Includes a US Power Plug
Hardware

SkyTrak+ Launch Monitor
USB Cable
USB Splitter Cable
Quick Start Guide
Product Information Guide

Software

SkyTrak App
Virtual Driving Range

SkyTrak is covered by a 12 month limited warranty. This warranty covers you against defects. 
If for some reason your item doesn't work as expected, simply contact us and we'll either repair your item under warranty or we may be able to offer a refund/exchange. Again, if for some reason your item doesn't work as expected, contact us right away and we'll sort out any issues ASAP.
You might have some questions about shipping times and costs. So, let's cover some of those questions for you.
How long will it take for my order to arrive?
We've partnered with Australia's fastest couriers to make sure you get your order FAST.

99% of our orders are shipped within one business day. That means if you order on a Monday, we'll usually ship same day or the next business day (Tuesday).

Your order will usually arrive in 3 to 5 business days. Of course, this depends on where you're located. If you live in a metro area, you can expect your order to arrive within 3 days.

If you live outside a metro area, you order will usually take a little longer to arrive. We recommend you allow 5 business days for your order to arrive.

The moment your order is on the way, we'll send you tracking details via email. That means you'll be able to keep an eye on your order and see where it is at any point in time.

Of course, if you have any questions or queries in relation to your order, simply email us, call (03) 9961 0240 or open the live chat function. We'll help you in any way we can.
How much is shipping?
Shipping costs depend on item weight and shipping destination. We'll do everything we can to ensure you receive the best shipping rates available.

Shipping is calculated in checkout. Simply fill in your address details and our shipping calculator will show the final shipping cost.

A lot of items we sell include free shipping. If an item is labelled free shipping, you won't pay a single cent for shipping.
What if I'm not home when my order arrives?
No stress. If you're not home, our couriers will drop your order off at the nearest depot or post office.

Contact details will be left at your door or in your mailbox so you can organise redelivery.
Hey what gives, it's been more than a week and my order hasn't arrived. Where is it?
No worries. The first thing we recommend you do is check your tracking details. It may just be that your order was held up a little.
If your tracking details don't shed any light on where your order is, contact us on (03) 9961 0240 and we'll help work out where your order is.
If you've clicked on this tab, you're obviously looking for a reason or two on why you should shop for your gaming goodies at Gamer Gear Direct, rather than those other online stores.

And we'll (not so) humbly say there are SEVEN reasons we think you should shop with us and not hand over your hard-earned cash at one of those big box retailers like Harvey Norman or JB Hi-Fi.
REASON #1: 100% customer satisfaction GUARANTEED (if you're not happy then neither are we – simple as that)
We'll bend over backwards to ensure you are 100% happy and satisfied with your order and our world-class customer service. We want you to rave about your experience with us to your friends and family.

But we know that'll only happen if we treat every customer like you're the most important customer in the world. And you are! Without you we wouldn't be in this business. We've only got to where we are today by treating our customers to a high level of service that you'll rarely find online.

We'll literally bend over backwards to ensure your experience with us is one you'll shout about to your neighbour or mates at work. See, we're not one of those big box electronics stores with a multi-million marketing budget. Those companies treat you like a number. Because they can afford to! They've got money coming out of their ears.

We're different. We're a small Aussie owned and operated business. Every single potential customer that hits our website is precious to us (that includes you). So, again, we'll do everything we can to make sure you're over the moon with your Gamer Gear Direct shopping experience.

Do you think Harvey Norman can promise that kind of service?

Probably not. In fact, I'd bet my house they won't. But look, you don't have to take my word for it. Here's what our customers are saying about us…

Ashley Woolnough says: 'I want to say a huge thank you to Blake and the team at Gamer Gear Direct. The service has been absolutely impeccable from the moment I first looked at items to the moment they were delivered. I bothered Blake quite a bit, but nothing was too much trouble and he went above and beyond to help me. 5-star service'.

Luke H. had this to say: 'Amazing, Excellent Service. I'm very impressed. Well informed staff and good quality selection of Sim Racing gear. Staff even went above and beyond to answer a query regarding whether a certain set of pedals would properly mount to a specific cockpit by testing it themselves on my behalf. Delivery is ridiculous fast and free. Less than 24 hour delivery to Sydney NSW which is impressive. Definitely my go to place for all future gear'.

And this from Brendan: 'Hands down the best online supplier in Australia atm. Customer service is above an beyond any other Australian company. Blake is always happy to try an keep the customer as happy as possible an with the best deal. I will be back...a forever shop and first stop when hunting any sim upgrade.'
That's not an exhaustive list, either. There are plenty more happy customer stories we could share with you. But let's move on to reason number two…
REASON #2: Five-star customer support
We're around to support you and help you out with your questions and queries between normal business hours (Mon to Fri, 9am to 5pm).

We understand a lot of our customers (like you) are busy individuals.
Sometimes, you've only got time to peruse our website when you're sitting down on the couch, chilling out after a hard day at work (maybe with a cold beverage in hand).

If you need a hand with anything, or you've got a question. Just tap on the live chat widget (at the bottom right of screen), email us (support@gamergeardirect.com.au) or call on (03) 9961 0240.
REASON #3: Shop with confidence thanks to our 30 day return policy
The moment you buy anything (yes, anything!) from Gamer Gear Direct you're automatically covered by our 30-day return policy.
Buy today and if your item is not performing as it should or is faulty just return inside those first 30 days, in 'as new' condition for a refund or exchange. Please note that our return policy does not cover 'change of mind' purchases.

On top of our 30-day return policy, you're also covered by a manufacturers' warranty. Every product we sell is covered by a MINIMUM 6-month warranty (most are covered by a 1 year or better warranty).

When you buy from us, you're buying top quality, brand name products (no crap 'grey import' products here), that'll do exactly what they say on the box.
You'll find more details on our return policy HERE.
REASON #4: We're competitive on our prices. If you see a Gamer Gear Direct product cheaper online, contact us and we'll see if we can work out a deal
That doesn't mean we'll always beat the competition on price. Some of the big-name stores bulk up big time on products. We're still competitive, but may not have the margin to beat them.

That aside, our prices are easily some of the cheapest you'll find online. Plus, when you bundle several items together, we're more than happy to chat about a bundle discount

Hit us up and we'll chat more about price (you can open the chat widget at the bottom right of screen and start a conversation).
REASON #5: Fast shipping Australia wide
When you're shopping online, you want your order delivered fast, right? We understand. That's why 99% of our orders are shipped within one to two business days from the time you order.

Your order will usually arrive at your doorstep within 3 to 5 business days from the day you ordered. Doesn't matter whether you order a 50kg racing simulator cockpit or a mousepad, we'll make sure you get your order in super quick time.

We use the fastest couriers in the country to make sure you get your order in record time.

You can track your order the entire time, too. As soon as your order is on the way we'll send you an email with tracking details, so you can keep your eye on where your order is the entire time.

Of course, if you have any questions or queries about your order simply email or call us and we'll help you in any way we can.
REASON #6: Every product from Gamer Gear Direct is covered by a manufacturer warranty
Nothing worse than buying something online and it's faulty, right?

We feel you.

That's exactly why every item we stock is covered by a minimum 6-month warranty.

If the product you ordered from us doesn't work right, simply return it to us and we'll get it fixed for you under warranty.

Or if we can't have it fixed, we'll provide you with a replacement item as soon as possible.
REASON #7: Safe and 100% secure checkout
Our shopping cart is fitted with SSL encryption.

What the hell does that mean, you ask?

Well, that simply means all your data is 100% secure when you shop on the Gamer Gear Direct website.

We don't save or share any of your payment details. Nor are those precious details stored anywhere on our website.

So, there you have it. There are our 7 big reasons on why you should buy all your sim goodies from us and not the competition.

Remember, we are always happy to chat with you at any time. You can open a live chat (at bottom right of screen). Email us at support@gamergeardirect.com.au or give us a call on (03) 9961 0240.
Initial Product Review
Skytrak+ is an excellent new product from an industry leading launch monitor manufacturer. We are very pleased with our demo unit that we have been beta testing and have full confidence that this product will be a big hit among our customers.