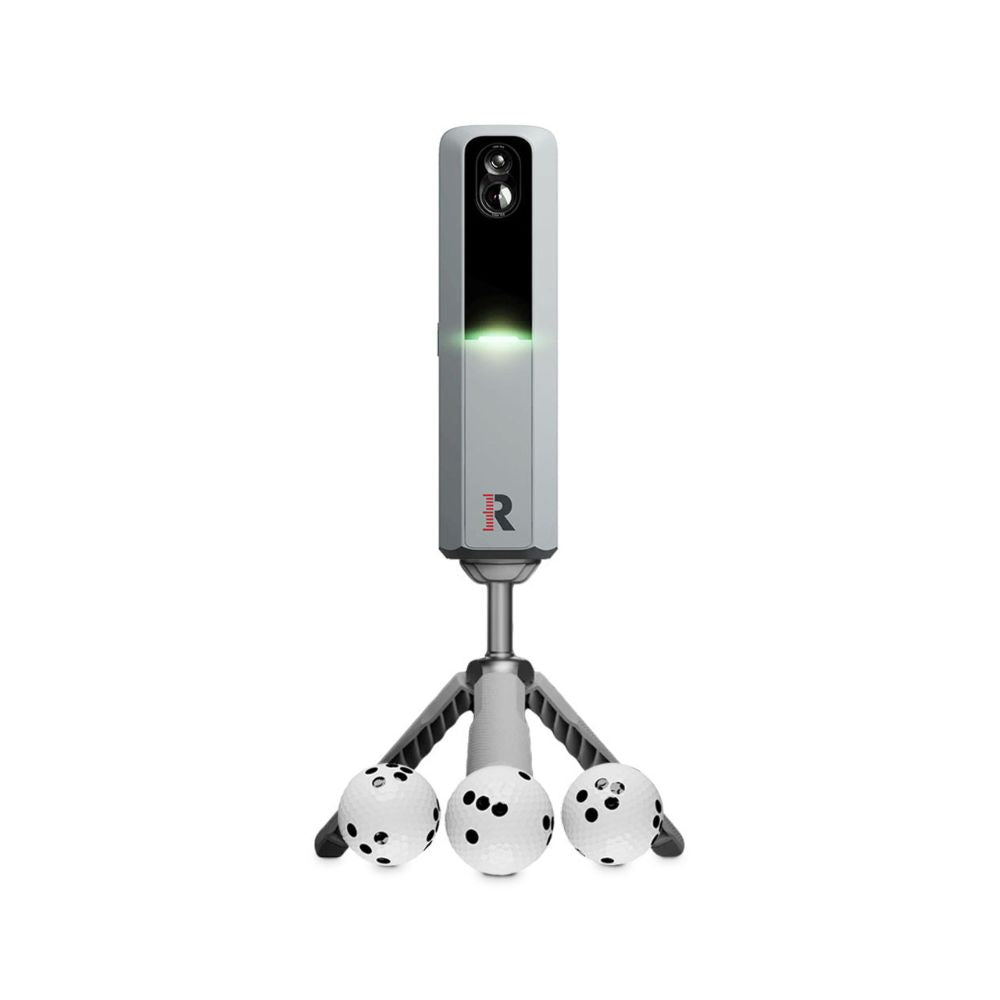 Rapsodo MLM2PRO Mobile Launch Monitor + FREE Tomahawk Tees
Description

Specifications

What's In The Box?

Reviews

Warranty

Shipping

Why Buy From Us?
Enjoy incredible golf simulation and ball data with the Rapsodo MLM2PRO mobile launch monitor
The Rapsodo MLM2PRO mobile launch monitor takes the foundations of what made the original Rapsodo mobile launch monitor a favourite among amateur and pro golfers and turns everything up to 11.
You've got additional data metrics and built-in virtual range to enhance your experience, but the cherry on top is the ability to play on over 30,000 simulated golf courses from around the world. 
The dual camera Rapsodo MLM2PRO also offers slow-motion replay, club-fitting charts, virtual competitions and is compatible with both Android and Apple devices. 
If you want a first-class launch monitor and golf simulator that doesn't cost the earth, then the Rapsodo MLM2PRO mobile launch monitor should be high on your shopping list.

Key features
Sets a new bar in golf technology: Say hello to a high-end golf simulator and personal launch monitor
Accurate and precise: Dual optical camera vision + radar processing for hyper-accurate ball data measurements
Shot vision and impact vision for multi-option swing replay
Apple and Android compatible: Simply connect to your phone or tablet
The ultimate golf simulator: Access and play on 30,000+ simulated golf courses from around the world
13 core metrics: Including measured spin rate and spin axis
Play anywhere, anytime: Full functionality indoors and outdoors with vastly improved video analysis and data visualization
FREE 12 months premium membership included: Premium membership allows you to access the full feature suite of the MLM2PRO 
FREE set of Tomahawk tees included: Premium floating tees, perfect for gold mats, no need to drill holes!
THREE Callaway RPT golf balls INCLUDED: These balls are specially designed to be used with the MLM2PRO and aid with spin data  
Shop with confidence: Backed by a 12 month limited warranty
Dual high speed cameras + radar technology
The Rapsodo MLM2PRO mobile launch monitor features dual built-in cameras, offering a major upgrade from the original MLM ,which required the iOS device camera to track ball flight. The inclusion of the cameras opens up the MLM2PRO to both Android and iOS platforms.
The two cameras serve different purposes. The wide-angle 'Shot Vision' camera is used to record a swing video with shot trace on every shot. While the 240 FPS high-speed 'Impact Vision' camera captures a series of photographs that are visualized in the MLM2PRO Mobile App as a short video.
This setup allows you to view multiple angles of each swing and capture down-the-line and face-on swing replay videos so you get more out of your practice time.
Play on 30,000+ golf courses
The MLM2PRO takes simulation to a whole new level. With access to more than 30,000 simulated courses, including world-renowned championship venues and a 3D range, you can play from home anytime you want.
All courses are rendered in superb, high-definition graphics. Thanks to the stunning, lifelike visuals, you'll feel like you're actually hitting a few rounds on your favourite courses.
On top of the great graphics, you get online multiplayer functionality and online tournaments and events. 
Incredibly accurate ball data
With dual high speed cameras and built-in radar technology, you'll enjoy incredibly accurate ball data.
The MLM2PRO launch monitor measures a total of 13 different ball parameters for accurate ball projection and the ultimate in game improvement and entertainment.
Here are the measured metrics:

Spin rate
Spin axis
Ball speed
Club apeed
Launch angle
Launch direction
These are the calculated data points:

Carry distance
Total distance
Descent angle
Apex
Shot type
Side carry
Smash factor
Note: At this time, the MLM2PRO does not record putt data. Therefore you'll need to use the auto putt feature while in-game.
BONUS: 12 month premium membership and Callaway RPT golf balls
Premium membership ($199USD value) opens up the full suite of features and functionality of the Rapsodo MLM2PRO mobile launch monitor. You get your first 12 months of premium membership included FREE with your new MLM2PRO launch monitor purchase.
Premium membership provides access to all Rapsodo simulated courses, cloud video storage, dual camera functionality and more. See below for full inclusions: 
Premium membership includes: 
Cloud video storage - up to 10,000 videos
Slow motion replay
Session insights
Rapsodo combine
Spin rate, spin axis (via Callaway RPT balls)
Access 30,000+ Rapsodo courses
Rapsodo range
Impact vision
Dual camera
The three included Callaway RPT Chrome Soft X golf balls accurately measure spin data with Rapsodo Precision Technology (RPT). These custom designed Callaway golf balls deliver the ultimate indoor golf experience by providing spin measurements within 1% of the accuracy of high-priced launch monitors.
Set up your MLM2PRO within seconds
After downloading the app, your MLM2PRO launch monitor connects easily to compatible Android and Apple devices. Once connected, you're ready to start playing on any of the 30,000+ golf courses or hit the range.
As the MLM2PRO doesn't require the use of a phone or tablet camera, you save on device battery power. Practice and play rain or shine, 365 days a year, from the comfort of your home. 
Frequently asked questions
How are spin rate and spin axis measured?

MLM2PRO uses specially engineered golf balls using Rapsodo Precision Technology (RPT). The custom designed Callaway RPT Chrome Soft X golf balls deliver the ultimate golf experienced by providing spin measurements within 1% accuracy of high-end launch monitors.

Will I get spin rate and spin axis if I use a regular golf ball instead of the Callaway RPT balls?

Currently, you need to use the Callaway balls to access proper spin data.

What are the ideal space requirements for set up indoors for MLM2PRO?

Around 4.5 metres is needed. First, 2.5 metres is needed from ball to the net. Then, the MLM2PRO requires another 2 to 2.5 metres behind the ball. Taller players may need to place the device further back to capture their entire swing video.

Can you putt with the MLM2PRO?
At present, there is no putting feature available with the MLM2PRO launch monitor. However, this may change in the future with a hardware/software update. This means that when playing with golf simulation software you'll need to use an auto putt setting.
How do I access the 30,000+ simulated courses?
The courses are accessed via the Rapsodo app. However, you must have a valid premium membership to load and play these courses. The good news is, your first year of premium membership is included with your purchase.

Mobile launch monitor + golf simulator
Dual optical camera vision + radar processing for precision accuracy
Shot Vision and Impact Vision for multi-option swing replay
Access 30,000+ simulated golf courses
13 metrics - 6 measured metrics - including spin rate and spin axis
Full functionality indoors and outdoors
Apple and Android compatible
1x Rapsodo MLM2PRO launch monitor
1x Rapsodo MLM2PRO tripod
1x Carry case
1x Charging cable
3x Callaway RPT Chrome Soft X golf balls
1 Year FREE MLM2PRO Premium Membership ($199USD value)
The Rapsodo MLM2PRO launch monitor is backed by a 12 month limited warranty. This warranty covers you against manufacturer defects and faults

If for some reason your MLM2PRO doesn't work as expected, simply contact us and we'll either repair your item under warranty or we may be able to offer a refund/exchange. Again, if for some reason your item doesn't work as expected, contact us right away and we'll sort out any issues ASAP.
You might have some questions about shipping times and costs. So, let's cover some of those questions for you.
How long will it take for my order to arrive?
We've partnered with Australia's fastest couriers to make sure you get your order FAST.

99% of our orders are shipped within one business day. That means if you order on a Monday, we'll usually ship same day or the next business day (Tuesday).

Your order will usually arrive in 3 to 5 business days. Of course, this depends on where you're located. If you live in a metro area, you can expect your order to arrive within 3 days.

If you live outside a metro area, you order will usually take a little longer to arrive. We recommend you allow 5 business days for your order to arrive.

The moment your order is on the way, we'll send you tracking details via email. That means you'll be able to keep an eye on your order and see where it is at any point in time.

Of course, if you have any questions or queries in relation to your order, simply email us, call (03) 9961 0240 or open the live chat function. We'll help you in any way we can.
How much is shipping?
Shipping costs depend on item weight and shipping destination. We'll do everything we can to ensure you receive the best shipping rates available.

Shipping is calculated in checkout. Simply fill in your address details and our shipping calculator will show the final shipping cost.

A lot of items we sell include free shipping. If an item is labelled free shipping, you won't pay a single cent for shipping.
What if I'm not home when my order arrives?
No stress. If you're not home, our couriers will drop your order off at the nearest depot or post office.

Contact details will be left at your door or in your mailbox so you can organise redelivery.
Hey what gives, it's been more than a week and my order hasn't arrived. Where is it?
No worries. The first thing we recommend you do is check your tracking details. It may just be that your order was held up a little.
If your tracking details don't shed any light on where your order is, contact us on (03) 9961 0240 and we'll help work out where your order is.
If you've clicked on this tab, you're obviously looking for a reason or two on why you should shop for your gaming goodies at Gamer Gear Direct, rather than those other online stores.

And we'll (not so) humbly say there are SEVEN reasons we think you should shop with us and not hand over your hard-earned cash at one of those big box retailers like Harvey Norman or JB Hi-Fi.
REASON #1: 100% customer satisfaction GUARANTEED (if you're not happy then neither are we – simple as that)
We'll bend over backwards to ensure you are 100% happy and satisfied with your order and our world-class customer service. We want you to rave about your experience with us to your friends and family.

But we know that'll only happen if we treat every customer like you're the most important customer in the world. And you are! Without you we wouldn't be in this business. We've only got to where we are today by treating our customers to a high level of service that you'll rarely find online.

We'll literally bend over backwards to ensure your experience with us is one you'll shout about to your neighbour or mates at work. See, we're not one of those big box electronics stores with a multi-million marketing budget. Those companies treat you like a number. Because they can afford to! They've got money coming out of their ears.

We're different. We're a small Aussie owned and operated business. Every single potential customer that hits our website is precious to us (that includes you). So, again, we'll do everything we can to make sure you're over the moon with your Gamer Gear Direct shopping experience.

Do you think Harvey Norman can promise that kind of service?

Probably not. In fact, I'd bet my house they won't. But look, you don't have to take my word for it. Here's what our customers are saying about us…

Ashley Woolnough says: 'I want to say a huge thank you to Blake and the team at Gamer Gear Direct. The service has been absolutely impeccable from the moment I first looked at items to the moment they were delivered. I bothered Blake quite a bit, but nothing was too much trouble and he went above and beyond to help me. 5-star service'.

Luke H. had this to say: 'Amazing, Excellent Service. I'm very impressed. Well informed staff and good quality selection of Sim Racing gear. Staff even went above and beyond to answer a query regarding whether a certain set of pedals would properly mount to a specific cockpit by testing it themselves on my behalf. Delivery is ridiculous fast and free. Less than 24 hour delivery to Sydney NSW which is impressive. Definitely my go to place for all future gear'.

And this from Brendan: 'Hands down the best online supplier in Australia atm. Customer service is above an beyond any other Australian company. Blake is always happy to try an keep the customer as happy as possible an with the best deal. I will be back...a forever shop and first stop when hunting any sim upgrade.'
That's not an exhaustive list, either. There are plenty more happy customer stories we could share with you. But let's move on to reason number two…
REASON #2: Five-star customer support
We're around to support you and help you out with your questions and queries between normal business hours (Mon to Fri, 9am to 5pm).

We understand a lot of our customers (like you) are busy individuals.
Sometimes, you've only got time to peruse our website when you're sitting down on the couch, chilling out after a hard day at work (maybe with a cold beverage in hand).

If you need a hand with anything, or you've got a question. Just tap on the live chat widget (at the bottom right of screen), email us (support@gamergeardirect.com.au) or call on (03) 9961 0240.
REASON #3: Shop with confidence thanks to our 30 day return policy
The moment you buy anything (yes, anything!) from Gamer Gear Direct you're automatically covered by our 30-day return policy.
Buy today and if your item is not performing as it should or is faulty just return inside those first 30 days, in 'as new' condition for a refund or exchange. Please note that our return policy does not cover 'change of mind' purchases.

On top of our 30-day return policy, you're also covered by a manufacturers' warranty. Every product we sell is covered by a MINIMUM 6-month warranty (most are covered by a 1 year or better warranty).

When you buy from us, you're buying top quality, brand name products (no crap 'grey import' products here), that'll do exactly what they say on the box.
You'll find more details on our return policy HERE.
REASON #4: We're competitive on our prices. If you see a Gamer Gear Direct product cheaper online, contact us and we'll see if we can work out a deal
That doesn't mean we'll always beat the competition on price. Some of the big-name stores bulk up big time on products. We're still competitive, but may not have the margin to beat them.

That aside, our prices are easily some of the cheapest you'll find online. Plus, when you bundle several items together, we're more than happy to chat about a bundle discount

Hit us up and we'll chat more about price (you can open the chat widget at the bottom right of screen and start a conversation).
REASON #5: Fast shipping Australia wide
When you're shopping online, you want your order delivered fast, right? We understand. That's why 99% of our orders are shipped within one to two business days from the time you order.

Your order will usually arrive at your doorstep within 3 to 5 business days from the day you ordered. Doesn't matter whether you order a 50kg racing simulator cockpit or a mousepad, we'll make sure you get your order in super quick time.

We use the fastest couriers in the country to make sure you get your order in record time.

You can track your order the entire time, too. As soon as your order is on the way we'll send you an email with tracking details, so you can keep your eye on where your order is the entire time.

Of course, if you have any questions or queries about your order simply email or call us and we'll help you in any way we can.
REASON #6: Every product from Gamer Gear Direct is covered by a manufacturer warranty
Nothing worse than buying something online and it's faulty, right?

We feel you.

That's exactly why every item we stock is covered by a minimum 6-month warranty.

If the product you ordered from us doesn't work right, simply return it to us and we'll get it fixed for you under warranty.

Or if we can't have it fixed, we'll provide you with a replacement item as soon as possible.
REASON #7: Safe and 100% secure checkout
Our shopping cart is fitted with SSL encryption.

What the hell does that mean, you ask?

Well, that simply means all your data is 100% secure when you shop on the Gamer Gear Direct website.

We don't save or share any of your payment details. Nor are those precious details stored anywhere on our website.

So, there you have it. There are our 7 big reasons on why you should buy all your sim goodies from us and not the competition.

Remember, we are always happy to chat with you at any time. You can open a live chat (at bottom right of screen). Email us at support@gamergeardirect.com.au or give us a call on (03) 9961 0240.
Launch Monitor
Had a few teething issues with updating the software due to a issue connecting with Apple devices but used my Android to update so all fine now. It's amazing value for money and I'm sure the software will be fixed in future stock deliveries.
Better Than Many Of The More Expensive LMs!
Original Rapsodo LM owner. 6.7 handicap. Use it exclusively at outdoor ranges to record practice sessions using my Android phone. Beta tester for this 2nd gen unit.
This LM is fantastic and a tremendous value compared to many other more expensive LMs. Tons of customizable data, automatic shot tracer, syncing to the cloud, great customer service.
Connection to my Android phone takes 1 minute. So fast that last time I played a round I brought the unit with and me and my buddies had fun recording actual swings and shot tracers out on the course.
If that isn't valuable enough for you - you can also use the device to play sim golf indoors. I haven't tested those features yet but I have used it at the range to "play" my old home courses from back in Illinois while practicing at the range.
On top of all that there is also Combine Mode where you have x number of shots to hit a specific yardage. Your score is then totalled up against everyone else.
This is a game changer for those of you looking to get more out of practice sessions. Get ready to answer questions at the range because other golfers will notice, ask about it and will want to hop on for a few swings themselves.
Battery life is excellent and lasts several trips to the range before needing to be recharged.
5.0 out of 5 stars Impact camera is a game changer (literally!)
I am an owner of the original Rapsodo MLM and it was (and is) great. But the extra info from the MLM2PRO has literally changed my game! From the impact camera recording, I found that my contact for the driver (even for a hit that LOOKED pretty good) was off center near the toe. Working to improve this has given me an extra 20-30 yards! And, while I wasn't particularly interested in simulations, I found them really fun!
awesome
Cant wait to set it up an dgrip itn rip it