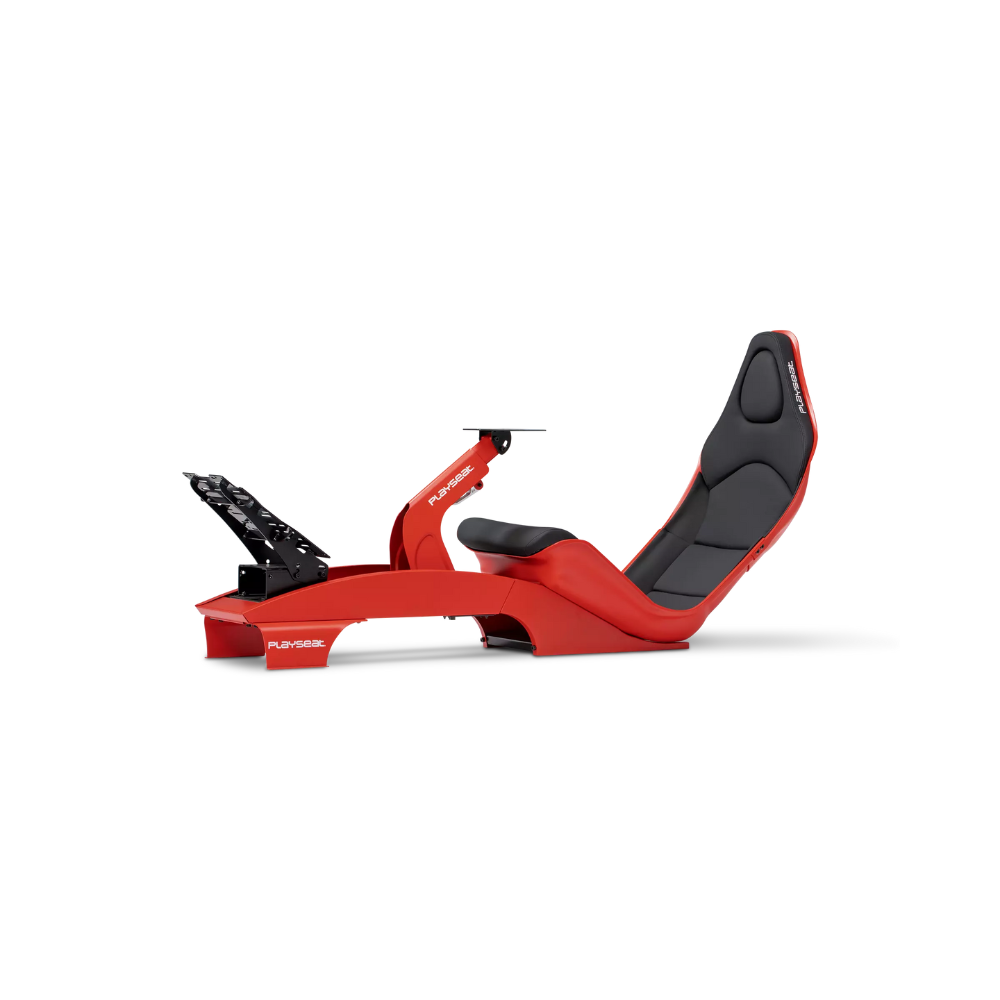 Playseat F1 Racing Simulator Cockpit
Description

Specifications

What's In The Box?

Reviews

Warranty

Shipping

Why Buy From Us?
Experience the thrill of Formula 1 racing with the Playseat F1 racing cockpit
The Playseat F1 racing simulator cockpit reproduces the exact driving position of a Formula 1 race car. Tested and given the thumbs up by professional F1 drivers like Sebsatian Vettel and Max Verstappen, the Playseat is the closest you'll come to racing a real F1 car.

The F1 frame is crafted from tough-as-nails steel and features a comfortable, foam padded seat. You can race for hours and you won't feel tired or cramped.

That's not all. The Playseat F1 racing simulator is also compatible with most wheels and pedal sets. The pre-drilled mounts are designed to easily bolt on wheel and pedal sets from all the big grands like Fanatec, Thrustmaster and Logitech.
Key features
Developed in cooperation with professional F1 drivers handing you a racing cockpit that's as close to the real thing as you'll ever get
Superior build quality, stability and comfort. You'll be hard pressed to find a better-quality F1 cockpit
Pedal plate built for maximum braking force
High quality, black synthetic leather upholstery. This material is soft, stain-resistant and hard-wearing
Choose from red, black, Mercedes AMG Petronas or Aston Martin Red Bull
Compatible with all big-brand steering wheel and pedal sets on the market, including Logitech, Thrustmaster and Fanatec. Just bolt on your racing wheel and pedals and start racing
Heavy-duty, steel frame can take whatever you throw at it
All installation accessories and easy-to-read instructions included
12 month warranty
Heavy-duty, steel frame
The Playseat F1 racing cockpit features a rigid and stable steel frame.

This cockpit was developed with close feedback from professional F1 drivers, so you can be sure it up for the most intense racing session.

The frame is designed to last a lifetime. Seriously, no matter what you throw at it, the Evolution racing seat will hold up for years to come.
Recreates a real F1 seating position
The Playseat F1 racing cockpit is specifically designed to replicate a true F1 racing position. This is the closest you can get to racing a real F1 race car.

If you're looking for an immersive and realistic F1 cockpit, the Playseat F1 racing simulator should be at the top of your shopping list.
Racing seat is covered in hardwearing black synthetic leather
The racing seat is covered in super soft, hardwearing and easy-to-clean black synthetic leather. This material is soft, stain-resistant and incredibly hardwearing.

A couple years from now it'll look the same as the first day you bolted together the F1 cockpit.

The stitching on the chair is first-rate, too. You can tell from one look, lots of care and attention has gone into the construction of this cockpit.
Fully adjustable steering wheel column and pedal mount to suit racers big and small
The Playseat F1 cockpit is fully adjustable to suit racers of any height or age.

You can easily adjust the pedal plate angle to suit your feet. The wheel column height can be adjusted. The wheel mount angle is also adjustable, so, you'll always have your optimum wheel position.
Compatible with all the big brand steering wheels and pedals (including Thrustmaster, Logitech and Fanatec)
The Playseat F1 cockpit is compatible with all the big brand racing wheels and pedal sets from Logitech, Thrustmaster and Fanatec.

Both the steering wheel and pedal plate feature pre-drilled holes, so you can simply bolt on your wheel and pedals and start racing.
Recommended drivers height: Minimum 120cm, maximum 220cm
Recommended drivers weight: Minimum 20kg, maximum 122 kg
Dimenions (LxWxH): 140x50x88cm
Backrest height: 86cm
Seat width: 50cm
Seat depth: 74cm
Net weight: 36kg
1x Playseat F1 racing cockpit
Detailed, easy-to-follow instruction manual
Installation accessories
Warranty card
All Playseat products are backed by a two year warranty. This warranty covers you against manufacturer defects. If for some reason your item doesn't work as expected, simply contact us and we'll either repair your item under warranty or we may be able to offer a refund/exchange.
Again, if for some reason your item doesn't work as expected, contact us right away and we'll sort out any issues ASAP.
You might have some questions about shipping times and costs. So, let's cover some of those questions for you.
How long will it take for my order to arrive?
We've partnered with Australia's fastest couriers to make sure you get your order FAST.

99% of our orders are shipped within one business day. That means if you order on a Monday, we'll usually ship same day or the next business day (Tuesday).

Your order will usually arrive in 3 to 5 business days. Of course, this depends on where you're located. If you live in a metro area, you can expect your order to arrive within 3 days.

If you live outside a metro area, you order will usually take a little longer to arrive. We recommend you allow 5 business days for your order to arrive.

The moment your order is on the way, we'll send you tracking details via email. That means you'll be able to keep an eye on your order and see where it is at any point in time.

Of course, if you have any questions or queries in relation to your order, simply email us, call (03) 9961 0240 or open the live chat function. We'll help you in any way we can.
How much is shipping?
Shipping costs depend on item weight and shipping destination. We'll do everything we can to ensure you receive the best shipping rates available.

Shipping is calculated in checkout. Simply fill in your address details and our shipping calculator will show the final shipping cost.

A lot of items we sell include free shipping. If an item is labelled free shipping, you won't pay a single cent for shipping.
What if I'm not home when my order arrives?
No stress. If you're not home, our couriers will drop your order off at the nearest depot or post office.

Contact details will be left at your door or in your mailbox so you can organise redelivery.
Hey what gives, it's been more than a week and my order hasn't arrived. Where is it?
No worries. The first thing we recommend you do is check your tracking details. It may just be that your order was held up a little.
If your tracking details don't shed any light on where your order is, contact us on (03) 9961 0240 and we'll help work out where your order is.
If you've clicked on this tab, you're obviously looking for a reason or two on why you should shop for your gaming goodies at Gamer Gear Direct, rather than those other online stores.

And we'll (not so) humbly say there are SEVEN reasons we think you should shop with us and not hand over your hard-earned cash at one of those big box retailers like Harvey Norman or JB Hi-Fi.
REASON #1: 100% customer satisfaction GUARANTEED (if you're not happy then neither are we – simple as that)
We'll bend over backwards to ensure you are 100% happy and satisfied with your order and our world-class customer service. We want you to rave about your experience with us to your friends and family.

But we know that'll only happen if we treat every customer like you're the most important customer in the world. And you are! Without you we wouldn't be in this business. We've only got to where we are today by treating our customers to a high level of service that you'll rarely find online.

We'll literally bend over backwards to ensure your experience with us is one you'll shout about to your neighbour or mates at work. See, we're not one of those big box electronics stores with a multi-million marketing budget. Those companies treat you like a number. Because they can afford to! They've got money coming out of their ears.

We're different. We're a small Aussie owned and operated business. Every single potential customer that hits our website is precious to us (that includes you). So, again, we'll do everything we can to make sure you're over the moon with your Gamer Gear Direct shopping experience.

Do you think Harvey Norman can promise that kind of service?

Probably not. In fact, I'd bet my house they won't. But look, you don't have to take my word for it. Here's what our customers are saying about us…

Ashley Woolnough says: 'I want to say a huge thank you to Blake and the team at Gamer Gear Direct. The service has been absolutely impeccable from the moment I first looked at items to the moment they were delivered. I bothered Blake quite a bit, but nothing was too much trouble and he went above and beyond to help me. 5-star service'.

Luke H. had this to say: 'Amazing, Excellent Service. I'm very impressed. Well informed staff and good quality selection of Sim Racing gear. Staff even went above and beyond to answer a query regarding whether a certain set of pedals would properly mount to a specific cockpit by testing it themselves on my behalf. Delivery is ridiculous fast and free. Less than 24 hour delivery to Sydney NSW which is impressive. Definitely my go to place for all future gear'.

And this from Brendan: 'Hands down the best online supplier in Australia atm. Customer service is above an beyond any other Australian company. Blake is always happy to try an keep the customer as happy as possible an with the best deal. I will be back...a forever shop and first stop when hunting any sim upgrade.'
That's not an exhaustive list, either. There are plenty more happy customer stories we could share with you. But let's move on to reason number two…
REASON #2: Five-star customer support
We're around to support you and help you out with your questions and queries between normal business hours (Mon to Fri, 9am to 5pm).

We understand a lot of our customers (like you) are busy individuals.
Sometimes, you've only got time to peruse our website when you're sitting down on the couch, chilling out after a hard day at work (maybe with a cold beverage in hand).

If you need a hand with anything, or you've got a question. Just tap on the live chat widget (at the bottom right of screen), email us (support@gamergeardirect.com.au) or call on (03) 9961 0240.
REASON #3: Shop with confidence thanks to our 30 day return policy
The moment you buy anything (yes, anything!) from Gamer Gear Direct you're automatically covered by our 30-day return policy.
Buy today and if your item is not performing as it should or is faulty just return inside those first 30 days, in 'as new' condition for a refund or exchange. Please note that our return policy does not cover 'change of mind' purchases.

On top of our 30-day return policy, you're also covered by a manufacturers' warranty. Every product we sell is covered by a MINIMUM 6-month warranty (most are covered by a 1 year or better warranty).

When you buy from us, you're buying top quality, brand name products (no crap 'grey import' products here), that'll do exactly what they say on the box.
You'll find more details on our return policy HERE.
REASON #4: We're competitive on our prices. If you see a Gamer Gear Direct product cheaper online, contact us and we'll see if we can work out a deal
That doesn't mean we'll always beat the competition on price. Some of the big-name stores bulk up big time on products. We're still competitive, but may not have the margin to beat them.

That aside, our prices are easily some of the cheapest you'll find online. Plus, when you bundle several items together, we're more than happy to chat about a bundle discount

Hit us up and we'll chat more about price (you can open the chat widget at the bottom right of screen and start a conversation).
REASON #5: Fast shipping Australia wide
When you're shopping online, you want your order delivered fast, right? We understand. That's why 99% of our orders are shipped within one to two business days from the time you order.

Your order will usually arrive at your doorstep within 3 to 5 business days from the day you ordered. Doesn't matter whether you order a 50kg racing simulator cockpit or a mousepad, we'll make sure you get your order in super quick time.

We use the fastest couriers in the country to make sure you get your order in record time.

You can track your order the entire time, too. As soon as your order is on the way we'll send you an email with tracking details, so you can keep your eye on where your order is the entire time.

Of course, if you have any questions or queries about your order simply email or call us and we'll help you in any way we can.
REASON #6: Every product from Gamer Gear Direct is covered by a manufacturer warranty
Nothing worse than buying something online and it's faulty, right?

We feel you.

That's exactly why every item we stock is covered by a minimum 6-month warranty.

If the product you ordered from us doesn't work right, simply return it to us and we'll get it fixed for you under warranty.

Or if we can't have it fixed, we'll provide you with a replacement item as soon as possible.
REASON #7: Safe and 100% secure checkout
Our shopping cart is fitted with SSL encryption.

What the hell does that mean, you ask?

Well, that simply means all your data is 100% secure when you shop on the Gamer Gear Direct website.

We don't save or share any of your payment details. Nor are those precious details stored anywhere on our website.

So, there you have it. There are our 7 big reasons on why you should buy all your sim goodies from us and not the competition.

Remember, we are always happy to chat with you at any time. You can open a live chat (at bottom right of screen). Email us at support@gamergeardirect.com.au or give us a call on (03) 9961 0240.