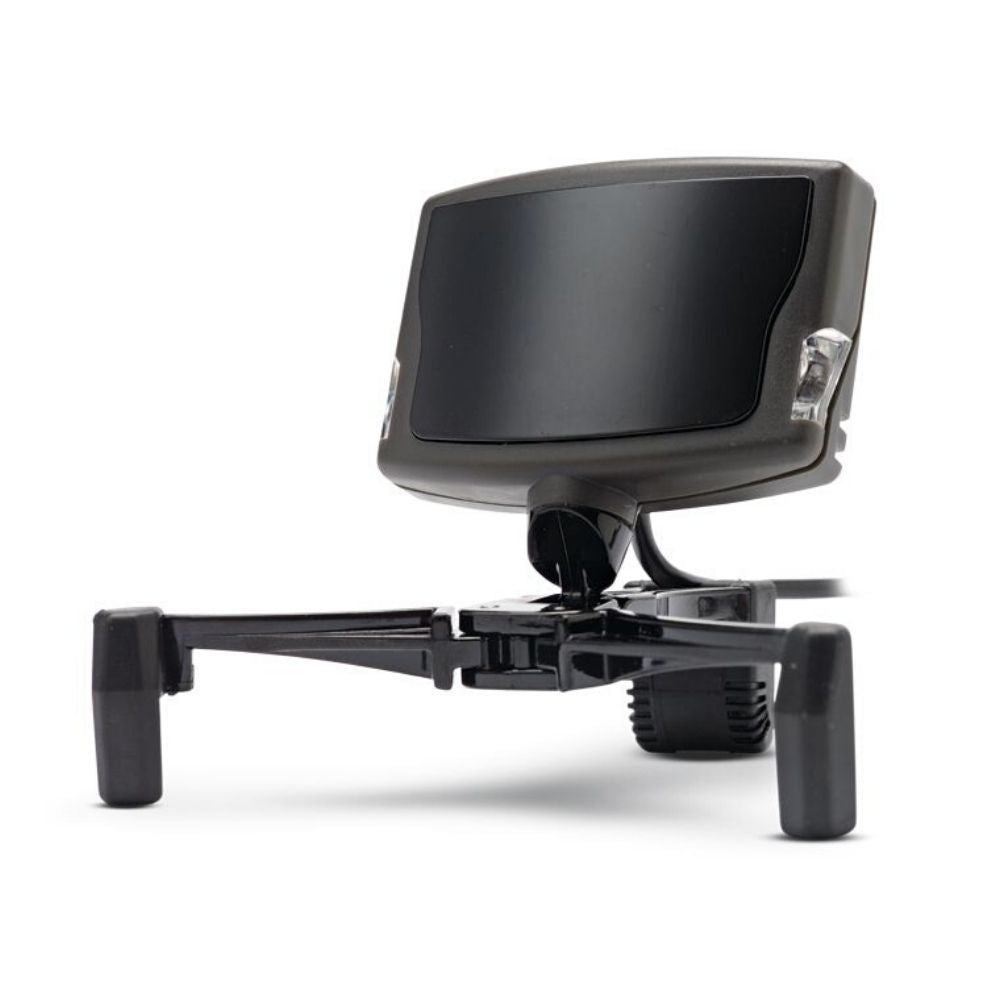 NaturalPoint TrackIR 5 6DOF Head Tracker Pro Pack
Description

Specifications

What's In The Box?

Reviews

Warranty

Shipping

Why Buy From Us?
NaturalPoint TrackIR 5 6DOF Pro Pack. Take your racing and flight sim experience to a whole new level of realism and immersiveness with real-time, 3D view control!
Now you can experience real-time, natural, 3D view control in your favourite racing and flight simulation games – all by moving your head.

The NaturalPoint TrackIR 5 takes your favourite games to astonishing new levels of realism and immersion.

As you move in your chair and rotate your head, your in-game view instantly corresponds.

The TrackIR 5 provides a full six degrees of freedom (aka 6DOF) and supports X, Y and Z axes. Plus, allows for yaw, pitch and roll movements.
This means, when you're racing around a track or flying across the sky, you can freely look around your car cabin or aircraft cockpit, zoom in on instruments and more all with a simple head rotation.

Plus, when you move slightly up or down in your chair you can check your virtual rear-view mirror and keep a close eye on a racing competitor or bring an enemy into your gun sight.

Now, not all games support 6DOF, but most support at least 2 axes, enough for free look movements.

The TrackIR 5 camera is tiny and compact, measuring in at just 51mm x 38mm x 14.5mm (without the base). With the flexible feet, it's also incredibly simple and easy to mount to the top of any gaming monitor or TV.

Installation is a breeze. The TrackIR 5 connects to any PC via USB (183cm USB cable included) and software is extremely easy to navigate and load onto your PC. You'll be up and running in seconds.

Grab your TrackIR 5 today and you'll experience the most exciting, realistic and immersive racing and flight simulation EVER.

There's a lot more to tell you about the NaturalPoint TrackIR 5…and we'll get to all the juicy details in a moment.

First, here's all the awesome features packed into the TrackIR 5…

Key features

Pack includes the TrackIR 5 camera and the TrackClip sensor that attaches to the brim of a hat, cap or visor
TrackIR 5 camera is tiny, measures in at just 51mm x 38mm x 14.5mm (without the base)
Ultra-wide 51.7 degree field of view
60 to 152cm range means the TrackIR 5 can pick up your movements whether you sit close or far away from your screen
Hyper fast 120 frames per second sample rate means you always experience super-smooth in-game play
Full six degrees of freedom (6DOF) vector technology tracks all six directions of your head in 3D space
Improved ambient light filtering
640 x 480 raw sensor resolution
96000 x 72000 reporting resolution provides ultra-precise tracking movement down to the finest detail
9ms response time
183cm USB cable
Detachable magnetic base makes it super easy to mount the TrackIR 5 to any TV or gaming monitor
Easy mount flexible feet so you can quickly and easily position the TrackIR 5 in the exact right position
1 year limited warranty
Here's everything you need to know about the NaturalPoint TrackIR 5…

You'll be amazed at the TrackIR 5's real-time, in-game 3D view control! It's the closest you'll get to virtual reality WITHOUT forking out thousands of dollars to buy the latest VR headset
The TrackIR 5 is a head tracking device that uses an infrared camera and reflector clip to track the position and orientation of your head and then sends that data to any of the 100+ TrackIR compatible racing and flight simulator games.
With a simple turn of your head you'll able to look left and right in your car cabin or cockpit…or keep a close eye on that competitor in your rear view mirror…or even zoom in on your dash instrumentation.

It's about as close as you'll get to virtual reality simulation without forking out the thousands it costs to purchase a decent VR headset!

The TrackIR 5 massively increases your in-game interactivity and immersiveness. If you want to take your racing or flying experience to a whole new level of realism, you need to grab your own TrackIR 5 TODAY.

The TrackIR 5 is a must have for any serious sim enthusiast.

Here's what pro gamers are saying about the TrackIR 5…

BadNewsBaron says: 'It's a massive competitive edge in flight and space sims. It changes the game. There's no going back. It's that important'.
Kjarahz reports: 'TrackIR increases my sim racing enjoyment tenfold by bringing the sensation of movement into the equation - that no amount of force feedback can provide'.

'As a professional broadcaster and big simulator fan, TrackIR forms an essential part of my immersive gaming experience'. - Squirrel

HydroBIGBANG had this to say: 'The added immersion and freedom puts you close enough to the virtual world for you to lose yourself in it'.
MrGrombles loves the TrackIR 5: 'Be it cruising through space, or skimming the planet earth in helicopters, the situational awareness TrackIR provides is phenomenal'.
And finally, Knowledge1970 says: 'No doubt about it, TrackIR is a significant advantage in combat, and frankly a far more immersive experience. I can't play my games without it anymore'.

As you can see, just about every pro gamer that's got a TrackIR 5 loves it!  
Small in size – BIG on features
The TrackIR 5 Pro Pack includes contains a small wide-angle infrared camera and a reflector clip which mounts on to the brim of a baseball style cap or a visor.
The camera detects light reflected from the hat clip and tracks the movement of the reflections in order to provide precise input to programs that support axis-based controls.
In short, TrackIR 5 turns your head movements into in game movements.
The physical dimensions of the camera are tiny. Measuring in at just 51mm x 38mm x 14.5mm (without the base) the TrackIR 5 can be easily and quickly mounted to any gaming monitor or TV. The included, detachable mount kit features flexible feet that 'lock' onto your screen bezel.
That's not all. The TrackIR 5 features a MASSIVE 51.7° field of view, incredible 640 × 480 raw resolution, 120 FPS sample rate and fast 9ms response time.
There's a whole stack of features packed into this tiny little camera!
Full 6 degrees of freedom (6DOF) tracking
The TrackIR 5 tracks all six directions your head can move in 3D space, with each direction on a separate axis so that actual movements are accurately linked to the in-game view.
That means the TrackIR 5 precisely tracks yaw, pitch and roll. Plus, X, Y and Z axes.
Fully adjustable and ultra-precise tracking
The TrackIR 5 packs the ability to focus on 1/150th of a pixel, That means the TrackIR 5 provides the most precise head tracking solution on the market – by a long shot.
There's simply nothing else like it at this price point.
Using the NaturalPoint, TrackIR 5 software's advanced settings, you can adjust each axis individually to tailor the sensitivity and speed to fit your needs. Or use one of several pre-configured profiles to get started right away.
By giving you control of your gaming experience, the TrackIR 5 enables you to unlock the full potential of ANY racing or flight simulation game.
Includes magnetic base for super easy monitor mounting
The TrackIR 5 includes a magnetic base for a simple, quick and easy installation process.
Plus, this specially designed mount firmly secures the TrackIR 5 camera to ensure there's zero movement.
The mount also features adjustable legs to fit snug on the bezel of any gaming monitor or TV.
SKU: NAT-TIR5PRO
Minimum System Requirements: Microsoft Windows 2000 & later, both 32 & 64bit versions
USB port
Internet connection for driver software download & updates
Head position tracked: 6 axes (6 DOF)
Horizontal Field of View: 51.7°
Sample Rate (FPS): 120
Raw Sensor Resolution: 640 x 480
Sub-pixel Resolution: 1/150th pixel
Reporting Resolution: 96,000 x 72,000
Resolution / Horizontal: 1850
Field of View Degree: subpixels/degree
Unit Size (without base): 51mm x 38mm x 14.5mm
Connection: USB
USB Cable Thickness: 2.5 mm
For full list of compatible games, go here: https://www.naturalpoint.com/trackir/games/
TrackIR 5 infrared camera
Reflector track clip (suitable for a hat or headset)
Electronic user manual
Quick start guide

The NaturalPoint TrackIR 5 is backed by a one year warranty. This warranty covers you against manufacturer defects. 
If for some reason your item doesn't work as expected, simply contact us and we'll either repair your item under warranty...or we may be able to offer a refund/exchange.
Again, if for some reason your item doesn't work as expected, contact us right away and we'll sort out any issues ASAP.
You might have some questions about shipping times and costs. So, let's cover some of those questions for you.
How long will it take for my order to arrive?
We've partnered with Australia's fastest couriers to make sure you get your order FAST.

99% of our orders are shipped within one business day. That means if you order on a Monday, we'll usually ship same day or the next business day (Tuesday).

Your order will usually arrive in 3 to 5 business days. Of course, this depends on where you're located. If you live in a metro area, you can expect your order to arrive within 3 days.

If you live outside a metro area, you order will usually take a little longer to arrive. We recommend you allow 5 business days for your order to arrive.

The moment your order is on the way, we'll send you tracking details via email. That means you'll be able to keep an eye on your order and see where it is at any point in time.

Of course, if you have any questions or queries in relation to your order, simply email us, call (03) 9961 0240 or open the live chat function. We'll help you in any way we can.
How much is shipping?
Shipping costs depend on item weight and shipping destination. We'll do everything we can to ensure you receive the best shipping rates available.

Shipping is calculated in checkout. Simply fill in your address details and our shipping calculator will show the final shipping cost.

A lot of items we sell include free shipping. If an item is labelled free shipping, you won't pay a single cent for shipping.
What if I'm not home when my order arrives?
No stress. If you're not home, our couriers will drop your order off at the nearest depot or post office.

Contact details will be left at your door or in your mailbox so you can organise redelivery.
Hey what gives, it's been more than a week and my order hasn't arrived. Where is it?
No worries. The first thing we recommend you do is check your tracking details. It may just be that your order was held up a little.
If your tracking details don't shed any light on where your order is, contact us on (03) 9961 0240 and we'll help work out where your order is.
If you've clicked on this tab, you're obviously looking for a reason or two on why you should shop for your gaming goodies at Gamer Gear Direct, rather than those other online stores.

And we'll (not so) humbly say there are SEVEN reasons we think you should shop with us and not hand over your hard-earned cash at one of those big box retailers like Harvey Norman or JB Hi-Fi.
REASON #1: 100% customer satisfaction GUARANTEED (if you're not happy then neither are we – simple as that)
We'll bend over backwards to ensure you are 100% happy and satisfied with your order and our world-class customer service. We want you to rave about your experience with us to your friends and family.

But we know that'll only happen if we treat every customer like you're the most important customer in the world. And you are! Without you we wouldn't be in this business. We've only got to where we are today by treating our customers to a high level of service that you'll rarely find online.

We'll literally bend over backwards to ensure your experience with us is one you'll shout about to your neighbour or mates at work. See, we're not one of those big box electronics stores with a multi-million marketing budget. Those companies treat you like a number. Because they can afford to! They've got money coming out of their ears.

We're different. We're a small Aussie owned and operated business. Every single potential customer that hits our website is precious to us (that includes you). So, again, we'll do everything we can to make sure you're over the moon with your Gamer Gear Direct shopping experience.

Do you think Harvey Norman can promise that kind of service?

Probably not. In fact, I'd bet my house they won't. But look, you don't have to take my word for it. Here's what our customers are saying about us…

Ashley Woolnough says: 'I want to say a huge thank you to Blake and the team at Gamer Gear Direct. The service has been absolutely impeccable from the moment I first looked at items to the moment they were delivered. I bothered Blake quite a bit, but nothing was too much trouble and he went above and beyond to help me. 5-star service'.

Luke H. had this to say: 'Amazing, Excellent Service. I'm very impressed. Well informed staff and good quality selection of Sim Racing gear. Staff even went above and beyond to answer a query regarding whether a certain set of pedals would properly mount to a specific cockpit by testing it themselves on my behalf. Delivery is ridiculous fast and free. Less than 24 hour delivery to Sydney NSW which is impressive. Definitely my go to place for all future gear'.

And this from Brendan: 'Hands down the best online supplier in Australia atm. Customer service is above an beyond any other Australian company. Blake is always happy to try an keep the customer as happy as possible an with the best deal. I will be back...a forever shop and first stop when hunting any sim upgrade.'
That's not an exhaustive list, either. There are plenty more happy customer stories we could share with you. But let's move on to reason number two…
REASON #2: Five-star customer support
We're around to support you and help you out with your questions and queries between normal business hours (Mon to Fri, 9am to 5pm).

We understand a lot of our customers (like you) are busy individuals.
Sometimes, you've only got time to peruse our website when you're sitting down on the couch, chilling out after a hard day at work (maybe with a cold beverage in hand).

If you need a hand with anything, or you've got a question. Just tap on the live chat widget (at the bottom right of screen), email us (support@gamergeardirect.com.au) or call on (03) 9961 0240.
REASON #3: Shop with confidence thanks to our 30 day return policy
The moment you buy anything (yes, anything!) from Gamer Gear Direct you're automatically covered by our 30-day return policy.
Buy today and if your item is not performing as it should or is faulty just return inside those first 30 days, in 'as new' condition for a refund or exchange. Please note that our return policy does not cover 'change of mind' purchases.

On top of our 30-day return policy, you're also covered by a manufacturers' warranty. Every product we sell is covered by a MINIMUM 6-month warranty (most are covered by a 1 year or better warranty).

When you buy from us, you're buying top quality, brand name products (no crap 'grey import' products here), that'll do exactly what they say on the box.
You'll find more details on our return policy HERE.
REASON #4: We're competitive on our prices. If you see a Gamer Gear Direct product cheaper online, contact us and we'll see if we can work out a deal
That doesn't mean we'll always beat the competition on price. Some of the big-name stores bulk up big time on products. We're still competitive, but may not have the margin to beat them.

That aside, our prices are easily some of the cheapest you'll find online. Plus, when you bundle several items together, we're more than happy to chat about a bundle discount

Hit us up and we'll chat more about price (you can open the chat widget at the bottom right of screen and start a conversation).
REASON #5: Fast shipping Australia wide
When you're shopping online, you want your order delivered fast, right? We understand. That's why 99% of our orders are shipped within one to two business days from the time you order.

Your order will usually arrive at your doorstep within 3 to 5 business days from the day you ordered. Doesn't matter whether you order a 50kg racing simulator cockpit or a mousepad, we'll make sure you get your order in super quick time.

We use the fastest couriers in the country to make sure you get your order in record time.

You can track your order the entire time, too. As soon as your order is on the way we'll send you an email with tracking details, so you can keep your eye on where your order is the entire time.

Of course, if you have any questions or queries about your order simply email or call us and we'll help you in any way we can.
REASON #6: Every product from Gamer Gear Direct is covered by a manufacturer warranty
Nothing worse than buying something online and it's faulty, right?

We feel you.

That's exactly why every item we stock is covered by a minimum 6-month warranty.

If the product you ordered from us doesn't work right, simply return it to us and we'll get it fixed for you under warranty.

Or if we can't have it fixed, we'll provide you with a replacement item as soon as possible.
REASON #7: Safe and 100% secure checkout
Our shopping cart is fitted with SSL encryption.

What the hell does that mean, you ask?

Well, that simply means all your data is 100% secure when you shop on the Gamer Gear Direct website.

We don't save or share any of your payment details. Nor are those precious details stored anywhere on our website.

So, there you have it. There are our 7 big reasons on why you should buy all your sim goodies from us and not the competition.

Remember, we are always happy to chat with you at any time. You can open a live chat (at bottom right of screen). Email us at support@gamergeardirect.com.au or give us a call on (03) 9961 0240.
The device works on Linux. It was pretty jittery, but I was able to pretty much solve that too. However, what I wasn't expecting is that once I actually started flying with it I started feeling motion sickness after about 30 minutes. I think it's mostly due to the constant motion of the image on the screen, as it's not really practical to keep your head perfectly still. I suppose I could say it increased the realism of the simulation, as I get sick on small planes too. But, I was not looking for that type of realism! :)
Omg! All I needed was a few minutes to know this was the product for me. I spend a lot of time with simulator games, having well over several hundreds hours spent with them just since this summer. I have really latched on to the simulator genre and TrackIr 5 was the next step in this admiration! It raises the immensity level of whatever you're doing to 10+! I don't know what kept me from purchasing this product for so long. For the price and complexity it is a miracle in immersive simulation gameplay!
Update 13 Feb 2020: Now that I've used this a while, I can say that TrackIR 5 is easier to get confused, compared to TrackIR 3. For example, even if I lift my hand to scratch my nose, the tracking will go crazy cuz of the light relfected off my watch glass. I don't know if it'll go crazy for people wearing prescription glasses though, I don't wear them while gaming.For TrackIR 3, I can do that without breaking the track. I can even puff on a cigarette with a long drag (lighting up the end) and it still wouldn't break the track. For TrackIR 5, the track would go crazy.Original review:============Actually my old TrackIR 3 (circa 2002) still works. I purchased this TrackIR 5 because some games I have do not register my TrackIR 3 as a head-tracker. Apparently the devs assumed everyone has a TrackIR 4 or newer.My first disappointment - old TrackIR software (v3.xx. v4.xx) doesn't work on it. I was kind of hoping it would (cuz I wanted to track with only 1 dot on my gaming goggles), but it doesn't. The newer TrackIR v5.xxx software doesn't detect my old TrackIR 3 (previously tested a few years ago), and it needs 3 dots to track. So, TrackIR 5 needed v5.xx software to run.Setup was a little different, but easily and quickly done. I quickly set up a profile for Eurotruck and tested - works fine. I am so used to TrackIR 3 (Pitch and Yaw ONLY) that on the new TrackIR 5, I disabled roll, X and Y axis. I kept Z on, cuz it's cool to be able to "lean into the screen" to see something up cl.
As someone who is not a fan of immersive VR goggles this is perfect. I have a large monitor so can feel immersed into the game but not totally isolated from my surroundings. Plus I am less likely to get dizzy from motion sickness with this device. I can simply glance away from the monitor. This device although older technology really took gaming to the next level. Perfect for Elite Dangerous or DCS World, etc. A great addition to my Warthog Hotas, also new.Btw if you don't like wearing a cap or using a headset, buy a thin plastic hair band and clip the device to that. Works great.
As another reviewer wrote below, TrackIR is a game-changer if you do any kind of flight-simming. I use it exclusively for DCS World and some X-Plane and it's the best you're gonna get without investing in some clunky VR headgear. It works as anticipated and adds quite a bit of environmental awareness in the cockpit. The software portion of the product lets you fine-tune the headset, which is a must, but once you're set, you're all ready to go.I went with the slightly cheaper head-clip version, which simply slides onto the brim of a baseball cap (the clip is quite delicate as people have said, thin plastic and what not). Three reflective tape surfaces from your brim deliver the movements to the actual IR receiver, which loosely clasps to the top of your monitor. That's it! I have the TrackIR software running before I start DCS - neither software has had an issue with the other.I was up and running (including fine-tuning) within the hour and was immediately amazed at how quickly it changed my flying. I'm not relying on external views in DCS for landing much anymore - it's all in-cockpit - which says a lot of how much the headgear really adds.So ya, highly recommended if you do any serious flying at your computer and have the money to spare.