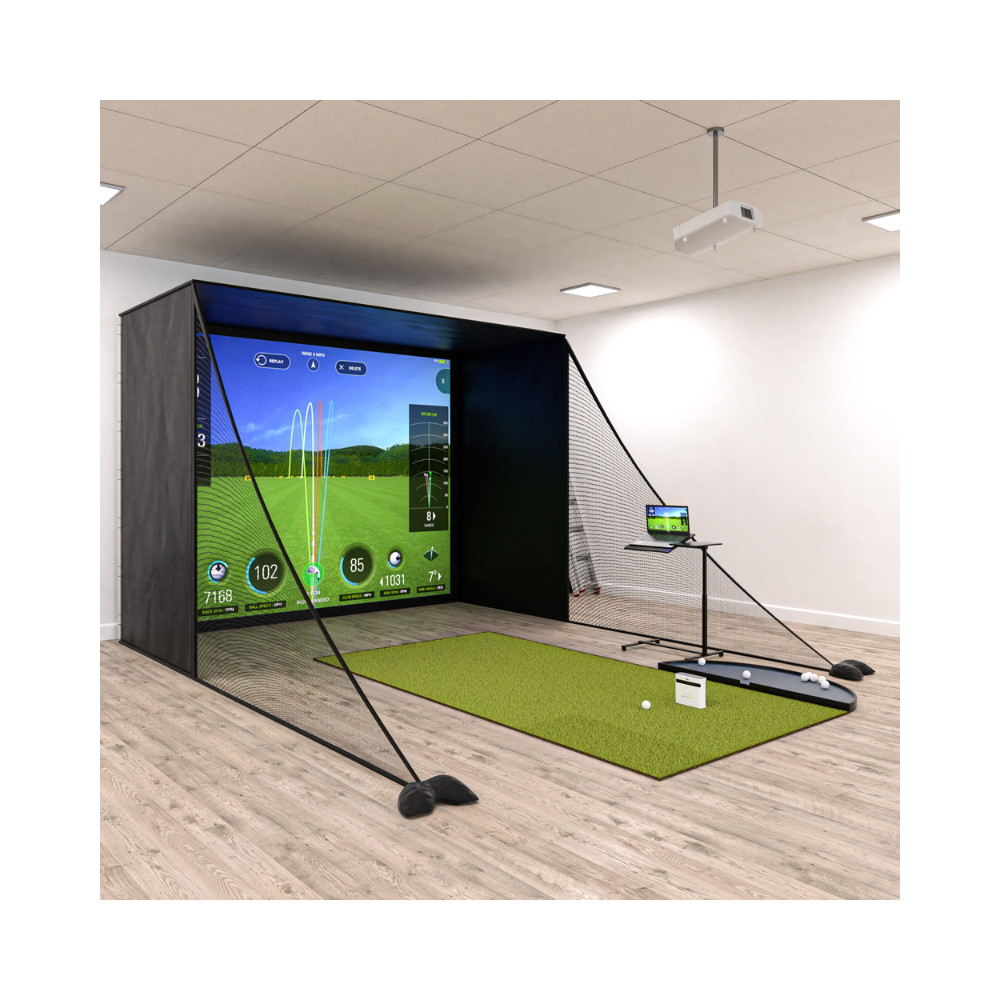 Carl's Place 12 SkyTrak+ Golf Simulator Bundle
Save

$429.00
Original Price
$14,978.00
Description

Specifications

What's In The Box?

Reviews

Warranty

Shipping

Why Buy From Us?
Play on 170,000+ courses with the Carl's Place 12 SkyTrak+ golf simulator bundle
The Carl's Place 12 SkyTrak+ golf simulator package hands you everything you need for an immersive and realistic golf simulation experience.
With the Carl's Place 12 golf simulator installed, you can play on more than 170,000 golf courses from around the world in eye-popping HD quality graphics. That's thanks to the included, lifetime access to The Golf Club 2019 software.
Plus, you can level up your swing prowess with the SkyTrak Game Improvement software (12 month free subscription included with this bundle).
The Carl's Place golf enclosure is designed and engineered by Carl's Place - a leading, US-based hitting bay manufacturer. This hitting bay is superior in every way. From the high-quality aluminium and steel frame to the heavy-duty blackout walls and premium impact screen.
This is the perfect golf simulator enclosure for a larger lounge, theatre room, garage, or custom space (you'll need a minimum roof height of 2.90m to fit the Carl's Place 12 hitting bay enclosure comfortably).
Here's everything included in the Carl's Place 12 SkyTrak Plus golf simulator bundle

Carl's Place 12 (284cm x 372cm) golf simulator hitting bay
SkyTrak+ launch monitor
12 months FREE access to SkyTrak Game Improvement Plan software
LIFETIME access to The Golf Club 2019 software (compatible with PC only)
The Net Return Pro Turf hitting mat (1.8m x 3m)
Optoma GT1080HDR short throw gaming projector
Ceiling projector mount
J5create JVAW76 4K Wireless Display Adapter
This is all you need to build your own dream golf simulator. This is the perfect bundle for someone looking for a quality golf simulator that can fit into a larger room (with ceiling heights of at least 290cm) or in a large garage.
Key features
A first-class golf simulator bundle: Includes everything you need to play on thousands of courses from around the world in eye-popping HD
High-quality, Carl's Place 10 hitting bay: Large footprint (284cm x 372cm) hitting bay and premium, 'preferred' impact screen
Strong and rigid aluminium frame: Aluminium enclosure frame is crafted from 25mm aluminium tubing and steel corner brackets
Minimum room dimensions: Requires minimum room dimensions of 2.9m (H) x 4.5m (W) x 6m (L)
SkyTrak+ launch monitor bundle: Includes the SkyTrak+ launch monitor and 12 months free Game Improvement Plan software
LIFETIME access to The Golf Club 2019: The ultimate golf simulation software. Play over 170,000 golf courses from around the world
The Net Return Pro Turf mat: Measures in at 3m x 1.8m, the Pro Turf mat includes tees and pre-drilled holes. You can also choose additional hitting mats
Optoma GT1080HDR short throw projector: An full-spec short throw gaming projector that's perfect for golf simulation. Includes a standard ceiling mount or upgrade to a floor enclosure
Microsoft 4K wireless adapter: Provides a wireless display connection between the projector and your device, eliminating the need for a pesky HDMI cable
High-quality, Carl's Place impact screen: Impact screen is optimized for 4:3 projection, with the image filling the entire screen
Commercial-grade polyester blackout side and upper walls: Blackout walls fasten to the frame using a secure Velcro system and reduce external light from blurring the projected image
Impact screen foam kit: Provides heavy-duty protection from shots that miss the golf simulator screen
Fine-tune your screen: Bungee system fastening system can be easily adapted to suit your room and prevent bounce back
Shop with confidence: One year warranty and lifetime tech support
Premium Carl's Place golf simulator enclosure
The Carl's Place 12 (284cm x 372cm) hitting bay is designed and engineered in the USA.
Each Carl's Place hitting bay is made to the highest standards and use quality materials. Included is everything you need to set-up and start swinging:

Rigid 25mm aluminium frame with steel corner brackets
Commercial-grade polyester blackout
Premium hitting screen
Side protective barrier nets
All installation accessories
Easy-to-read instructions
The Carl's Place 12 hitting bay features a large 284cm x 372cm footprint, which makes it perfect for larger rooms, garages and high-ceiling, dedicated golf simulator 'man caves'.
The commercial grade blackout that covers the walls and top of the hitting bay features a handy Velcro system for easy installation and is designed to block out surrounding light for an even brighter, crisper image.
Carl's Place 'preferred' impact screen
The Carl's Place impact screen is crafted from tight woven, heavy-duty polyester material that provides unrivalled crisp and clear projected images. No matter what golf simulation title you play, you'll always be impressed by the stunning high-definition graphics.
Carl's Place hitting bays are optimized for 4:3 projection, meaning the image fills the entire screen. There are zero gaps, unlike other golf bays on the market. The Carl's Place 12 hitting bay boasts a 434cm (diagonal) viewable screen area.
The rugged polyester screen with silicone reinforcement is designed to withstands thousands upon thousands of shots at up to 300km/h.
Please note: When you first pull the impact screen from the box it will be wrinkled. These wrinkles will disappear over time.
Revolutionary SkyTrak+ launch monitor
The SkyTrak+ showcases significant advancements in core technology by incorporating a dual doppler radar system and proprietary machine learning software, delivering unmatched accuracy in its class. This radar addition puts club data at the heart of your experience, providing essential data points for game improvement.
Further innovation comes with the new and improved SkyTrak Shot Optimizer and Shot Score functionality, allowing you to measure your performance against optimal shots and golfers of all skill levels from the extensive SkyTrak database.
Enjoy access to over 100,000 golf courses (including iconic locations like Pebble Beach Golf Links, Bandon Dunes, and Torrey Pines), and the industry's best gameplay simulation software. The SkyTrak+ transports you to courses worldwide, enabling you to play with friends from the comfort of your home.
LIFETIME access to The Golf Club 2019
The Golf Club 2019 is one of the best golf simulation titles on the market today.

You get instant access to 170,000+ golf courses from around the world. There's no other golf simulation title that comes close to this number of courses.
Every course is rendered in mind-blowing UHD 4K graphics. Thanks to the stunning, lifelike visuals, you'll feel like you're REALLY hitting a few rounds on your favourite courses. On top of the great graphics, you get online multiplayer functionality, online tournaments and events and you can even create your own golf courses.
You also receive 12 months free access to the SkyTrak Game Improvement Plan
The Game Improvement Plan (GIP) software from SkyTrak gives you additional skill challenges and progress tracking to boost your skill level and have some extra fun.
Show off your skills and test your improvement against friends or just have more fun with family. A valid GIP subscription is essential to access other advanced SkyTrak features like TGC 2019 and more.
Normally, GIP software is an extra $100USD. But you get your first 12 months access for free.
The Net Return Pro Turf hitting mat
Designed by USA company, The Net Return. The Pro Turf measures in at 3m x 1.8m and includes pre-drilled tee holes and plastic tees for your balls.
The Pro Turf golf mat has a 1.2kg Nylon face-weight with a 5mm foam backing, allowing it to be rolled up and stored like a carpet. It weighs approximately 23kg and is approximately 1.9cm thick and ships with two range mat rubber tees - 5.7cm and 4.5cm.
You can also upgrade your mat by adding additional mats to suit your specific space. Choose from the Country Club Elite or Premium Tee Up mats
Optoma GT1080HDR short throw projector and ceiling mount
The Optoma GTHDR1080 is a full spec, short throw gaming projector that will instantly hand you a more immersive golf simulation experience.
Seriously, your jaw will drop to the floor when you see the quality image the GT1080HDR can spit out. It packs a boatload of features including (but not limited to) awesome colour replication, super-bright 3,800 lumens, full HD native resolution, 50,000:1 contrast and super easy installation set-up. The Optoma GTHDR1080 delivers up to 100 inches in Full HD from just 1.1m.
You also get a universal ceiling mount to fit your projector.
12 month warranty and lifetime tech support
The Carl's Place 12 golf simulator bundle is backed by a 12 month warranty and lifetime tech support. In the highly unlikely even you run into an issue we're always around to assist you.
If you need any help with your golf simulator set-up or you've got a question to ask, we're always around to help.
SkyTrak+ Launch Monitor

Technology: High Speed Cameras and Doppler Radar

Indoor/Outdoor: Both indoor and outdoor

Space Requirements: Enough Space to Swing Your Club

Device Compatibility: PC, iOS, Android

Software Compatibility: TGC, E6 Connect, WGT, GSPro

Dimensions: 17.80cm (H) x 20.30cm (W) x 7cm (D)

Weight: 1.35kg

Warranty: One Year Warranty
Includes a US power plug

Carl's Place 12ft Wide Golf Simulator Hitting Bay

Designed and engineered by Carl's Place (USA)
Frame height: 284cm
Frame width: 372cm
Frame depth: 150cm
Viewable screen height: 261cm
Viewable screen width: 349cm
Viewable screen diagonal: 434cm
Blackout made from polyester
Heavy-duty hitting screen made tight woven polyester with silicone reinforcement
Aluminium frame and steel corner brackets (all black)
Weight bag and bungees

The Golf Club 2019

Recommended requirements:
OS: Windows 10 64Bit
Processor: Intel Core i7 @ 3.20GHz or equivalent
Memory: 8 GB RAM
Graphics: NVidia GTX 1060 (or better), for 4K NVidia GTX 1080 (or better)
DirectX: Version 11
Network: Broadband Internet connection
Hard Drive: 30 GB available space
Sound Card: DirectX 11 compatible

Pro Turf Mat

Pro Turf mat is constructed from nylon
Foam backing
1.8m x 3m (1.9cm thick)
2x Rangemart rubber tees (4.5cm & 5.7cm)
23kg (approx.)

Optoma GTHDR1080 Projector

Display Technology
DLP

Native Resolution
1080p 1920 x 1080

Brightness
3800 ANSI Lumens

Contrast
50,000:1

Light Source
Lamp

Lamp Life
15,000/10,000/4,000 (Eco+ Mode/Eco Mode/Bright Mode)

Throw Ratio
0.499

Zoom Type
Fixed

I/O Connectors
HDMI 2.0×1 (HDCP 2.2 supported), HDMI 1.4ax1 (HDCP 2.2 supported), USB-A 2.0×1, VGA-INx1, VGA-OUTx1, Audio-INx1, Audio-OUTx1, RS232x1

Speaker (Watts)
10W

Keystone Correction
±40° Vertical

Weight (Kg)
3

Dimensions (W x D x H) (mm)
316 x 243.5 x 98mm(w/o feet)

Aspect Ratio
4:3, 16:9 , LBX, Native, Auto

Offset
116%±5%

Projected image size
36.2"~300

Projection Distance
0.4m – 3.4m

Projection Lens
F# 2.8; f = 7.42mm

Uniformity
70%

Computer Compatibility
FHD, HD, WXGA, UXGA, SXGA, XGA, SVGA, VGA, Mac

Video Compatibility
PAL (B, D, G, H, I, M, N, 4.43MHz), NTSC (M, J, 3.58MHz, 4.443MHz), SECAM (B, D, G, K, K1, L, 4.25,MHz, 4.4MHz, 480i/p, 576i/p, 720p(50/60Hz), 1080i(50/60Hz) 1080p(24/50/60Hz)

3D Support
Full 3D – The 3D features of Optoma projectors can only be used with compatible 3D content. Typical applications include use with 3D educational or 3D design and modelling systems. 3D TV broadcast systems, (SKY in the UK), Blu-ray 3D™ and 3D games from the Sony® PS3 or Microsoft® Xbox 360 are now supported as part of the HDMI v1.4a specification.

3D compatibilty
Side-by-Side:1080i50 / 60, 720p50 / 60 Frame-pack: 1080p24, 720p50 / 60 Over-Under: 1080p24, 720p50 / 60

Horizontal Scan Rate
15.375 – 91.146 kHz

Vertical Scan Rate
50~85Hz

Displayable Colors
1073.4 million colors (10 bit)

Noise Level
26dB

Power Supply
100V ~ 240V ± 10%, 50-60Hz

Power Consumption
Typical 230W MAX 253W @ 110VAC (Bright), Typical 225W MAX 248W @ 220VAC (Bright), Typical 190W MAX 209W @ 110VAC (Eco), Typical 187W MAX 206W @ 220VAC (Eco)

Lamp Type
240W

RoHS
Compliant
MSI Katana Series Gaming Notebook 15.6" FHD (Katana 15 B13VFK-1089AU)

Panel Size : 15.6" FHD
Resolution : 15.6" FHD (1920*1080), 144Hz 45%NTSC IPS-Level
Processor : Raptor Lake i7-13620H
Memory : DDR5 8GB*2
Storage : 512GB NVMe PCIe SSD Gen4x4 w/o DRAM
OS : Windows11 Home Plus
Graphic : RTX 4060, GDDR6 8GB
wlan : Intel Wi-Fi 6 AX201(2*2 ax) + BT5.2
Battery : 3 cell, 53.5Whr
Keyboard : 4-Zone RGB Gaming Keyboard
Warranty : 1 Year Warranty Term for Gaming & Content Creation (EU-WE)
Colour : Black
J5create JVAW76 4K Wireless Display Adapter

Features
• Wirelessly share content from your mobile device to your HDTV
• Native support for AirPlay®, Miracast®, & Chromecast™ (Google Cast™)
• Supports up to full 4K30 HD video
• Built-in dual band (2.4 GHz and 5 GHz) ensures a stable connection
• Quick and easy setup - No apps or Wi-Fi® needed
• Includes an HDMI™ extension cable for added convenience

System Requirements
Windows® 10 / 8.1
Android™ 4.0 or later
macOS® 10.15 or later with AirPlay® Support
iOS® 10.0 or later
iPadOS® 13 or later
Chrome OS™
Special Notes

• Intended to be used with an external wireless display
Hardware

Warranty

1 Year Limited

Host Connector

HDMI™ male

Power Source

USB™ micro-B to USB™ Type-A male

LED Indicator

N/A

Ports

N/A

IR

N/A

 

Performance

HDMI™ Compliance

HDMI™ v1.4

HDCP Compliance

N/A

Audio Channel

2.1 via HDMI™

Display Output Supported Resolutions

3840 x 2160
1920 × 1080
1280 × 720

RF Output Power

N/A

Security (Encryption)

WPA2

IR Return Frequency

N/A

ESD Protection

N/A

OVP Protection

N/A

 

Wireless Protocols

Standard

IEEE 802.11ac

Frequency

2.4 GHz, 5 GHz

Range

Up to 10 - 15 meters

Channel Width

20 MHz, 40 MHz

Antenna Type

External antenna

 

Physical Specifications

Color

White

Enclosure Type

Plastic

Cable Length

39 in. (100 cm)

Product Height

3.74 in. (95 mm)

Product Width

1.25 in. (32 mm)

Product Depth

0.43 in. (11 mm)

Product Weight

2.8 oz (79.5g)

Operating Temperature

+14 to +104 °F (-10 to +40 °C)

Operating Humidity

< 85% non-condensing

Storage Temperature

-4 to +122°F (-20 to +50°C)

Storage Humidity

< 85% non-condensing
1x Carl's Place 12 hitting bay
1x SkyTrak+ launch monitor
Lifetime access to The Golf Club 2019
12 months access to SkyTrak's Game Improvement Plan
1x Optoma GT1080HDR projector
1x J5create JVAW76 4K Wireless Display Adapter
1x Universal projector ceiling mount
1x The Net Return Pro Turf
Assembly instructions and accessories
The Carl's Place golf simulator hitting bay, SkyTrak+ and other accessories are covered by a 12 month limited manufacturers' warranty against defects.

The Optoma gaming projector is covered by a 2 year limited warranty. Again, if for some reason your item doesn't work as expected, contact us right away and we'll sort out any issues ASAP.

If for some reason your hitting bay or any other products included in your golf simulator bundle do not work as expected or in the rare event you experience a system failure, simply contact us and we'll repair your item under warranty.

Please note that this warranty covers manufacturer defects and faults only and does not cover normal wear and tear or misuse.
You might have some questions about shipping times and costs. So, let's cover some of those questions for you.
How long will it take for my order to arrive?
We've partnered with Australia's fastest couriers to make sure you get your order FAST.

99% of our orders are shipped within one business day. That means if you order on a Monday, we'll usually ship same day or the next business day (Tuesday).

Your order will usually arrive in 3 to 5 business days. Of course, this depends on where you're located. If you live in a metro area, you can expect your order to arrive within 3 days.

If you live outside a metro area, you order will usually take a little longer to arrive. We recommend you allow 5 business days for your order to arrive.

The moment your order is on the way, we'll send you tracking details via email. That means you'll be able to keep an eye on your order and see where it is at any point in time.

Of course, if you have any questions or queries in relation to your order, simply email us, call (03) 9961 0240 or open the live chat function. We'll help you in any way we can.
How much is shipping?
Shipping costs depend on item weight and shipping destination. We'll do everything we can to ensure you receive the best shipping rates available.

Shipping is calculated in checkout. Simply fill in your address details and our shipping calculator will show the final shipping cost.

A lot of items we sell include free shipping. If an item is labelled free shipping, you won't pay a single cent for shipping.
What if I'm not home when my order arrives?
No stress. If you're not home, our couriers will drop your order off at the nearest depot or post office.

Contact details will be left at your door or in your mailbox so you can organise redelivery.
Hey what gives, it's been more than a week and my order hasn't arrived. Where is it?
No worries. The first thing we recommend you do is check your tracking details. It may just be that your order was held up a little.
If your tracking details don't shed any light on where your order is, contact us on (03) 9961 0240 and we'll help work out where your order is.
If you've clicked on this tab, you're obviously looking for a reason or two on why you should shop for your gaming goodies at Gamer Gear Direct, rather than those other online stores.

And we'll (not so) humbly say there are SEVEN reasons we think you should shop with us and not hand over your hard-earned cash at one of those big box retailers like Harvey Norman or JB Hi-Fi.
REASON #1: 100% customer satisfaction GUARANTEED (if you're not happy then neither are we – simple as that)
We'll bend over backwards to ensure you are 100% happy and satisfied with your order and our world-class customer service. We want you to rave about your experience with us to your friends and family.

But we know that'll only happen if we treat every customer like you're the most important customer in the world. And you are! Without you we wouldn't be in this business. We've only got to where we are today by treating our customers to a high level of service that you'll rarely find online.

We'll literally bend over backwards to ensure your experience with us is one you'll shout about to your neighbour or mates at work. See, we're not one of those big box electronics stores with a multi-million marketing budget. Those companies treat you like a number. Because they can afford to! They've got money coming out of their ears.

We're different. We're a small Aussie owned and operated business. Every single potential customer that hits our website is precious to us (that includes you). So, again, we'll do everything we can to make sure you're over the moon with your Gamer Gear Direct shopping experience.

Do you think Harvey Norman can promise that kind of service?

Probably not. In fact, I'd bet my house they won't. But look, you don't have to take my word for it. Here's what our customers are saying about us…

Ashley Woolnough says: 'I want to say a huge thank you to Blake and the team at Gamer Gear Direct. The service has been absolutely impeccable from the moment I first looked at items to the moment they were delivered. I bothered Blake quite a bit, but nothing was too much trouble and he went above and beyond to help me. 5-star service'.

Luke H. had this to say: 'Amazing, Excellent Service. I'm very impressed. Well informed staff and good quality selection of Sim Racing gear. Staff even went above and beyond to answer a query regarding whether a certain set of pedals would properly mount to a specific cockpit by testing it themselves on my behalf. Delivery is ridiculous fast and free. Less than 24 hour delivery to Sydney NSW which is impressive. Definitely my go to place for all future gear'.

And this from Brendan: 'Hands down the best online supplier in Australia atm. Customer service is above an beyond any other Australian company. Blake is always happy to try an keep the customer as happy as possible an with the best deal. I will be back...a forever shop and first stop when hunting any sim upgrade.'
That's not an exhaustive list, either. There are plenty more happy customer stories we could share with you. But let's move on to reason number two…
REASON #2: Five-star customer support
We're around to support you and help you out with your questions and queries between normal business hours (Mon to Fri, 9am to 5pm).

We understand a lot of our customers (like you) are busy individuals.
Sometimes, you've only got time to peruse our website when you're sitting down on the couch, chilling out after a hard day at work (maybe with a cold beverage in hand).

If you need a hand with anything, or you've got a question. Just tap on the live chat widget (at the bottom right of screen), email us (support@gamergeardirect.com.au) or call on (03) 9961 0240.
REASON #3: Shop with confidence thanks to our 30 day return policy
The moment you buy anything (yes, anything!) from Gamer Gear Direct you're automatically covered by our 30-day return policy.
Buy today and if your item is not performing as it should or is faulty just return inside those first 30 days, in 'as new' condition for a refund or exchange. Please note that our return policy does not cover 'change of mind' purchases.

On top of our 30-day return policy, you're also covered by a manufacturers' warranty. Every product we sell is covered by a MINIMUM 6-month warranty (most are covered by a 1 year or better warranty).

When you buy from us, you're buying top quality, brand name products (no crap 'grey import' products here), that'll do exactly what they say on the box.
You'll find more details on our return policy HERE.
REASON #4: We're competitive on our prices. If you see a Gamer Gear Direct product cheaper online, contact us and we'll see if we can work out a deal
That doesn't mean we'll always beat the competition on price. Some of the big-name stores bulk up big time on products. We're still competitive, but may not have the margin to beat them.

That aside, our prices are easily some of the cheapest you'll find online. Plus, when you bundle several items together, we're more than happy to chat about a bundle discount

Hit us up and we'll chat more about price (you can open the chat widget at the bottom right of screen and start a conversation).
REASON #5: Fast shipping Australia wide
When you're shopping online, you want your order delivered fast, right? We understand. That's why 99% of our orders are shipped within one to two business days from the time you order.

Your order will usually arrive at your doorstep within 3 to 5 business days from the day you ordered. Doesn't matter whether you order a 50kg racing simulator cockpit or a mousepad, we'll make sure you get your order in super quick time.

We use the fastest couriers in the country to make sure you get your order in record time.

You can track your order the entire time, too. As soon as your order is on the way we'll send you an email with tracking details, so you can keep your eye on where your order is the entire time.

Of course, if you have any questions or queries about your order simply email or call us and we'll help you in any way we can.
REASON #6: Every product from Gamer Gear Direct is covered by a manufacturer warranty
Nothing worse than buying something online and it's faulty, right?

We feel you.

That's exactly why every item we stock is covered by a minimum 6-month warranty.

If the product you ordered from us doesn't work right, simply return it to us and we'll get it fixed for you under warranty.

Or if we can't have it fixed, we'll provide you with a replacement item as soon as possible.
REASON #7: Safe and 100% secure checkout
Our shopping cart is fitted with SSL encryption.

What the hell does that mean, you ask?

Well, that simply means all your data is 100% secure when you shop on the Gamer Gear Direct website.

We don't save or share any of your payment details. Nor are those precious details stored anywhere on our website.

So, there you have it. There are our 7 big reasons on why you should buy all your sim goodies from us and not the competition.

Remember, we are always happy to chat with you at any time. You can open a live chat (at bottom right of screen). Email us at support@gamergeardirect.com.au or give us a call on (03) 9961 0240.
Initial Product Review
Skytrak+ is an excellent new product from an industry leading launch monitor manufacturer. We are very pleased with our demo unit that we have been beta testing and have full confidence that this product will be a big hit among our customers.
Good quality
Very good and sturdy impact screen.
Great quality, needs blackout material
Nice!!!!!!! Standard quality looks and works amazingly beyond expectation.
The border is of quality and seems to be solid
Only drawback is the lack of blackout material
Great!
This thing is great! Was just what I needed to finish my golf sim.
Durable
Great sceeen. Durable and provides great picture with projector