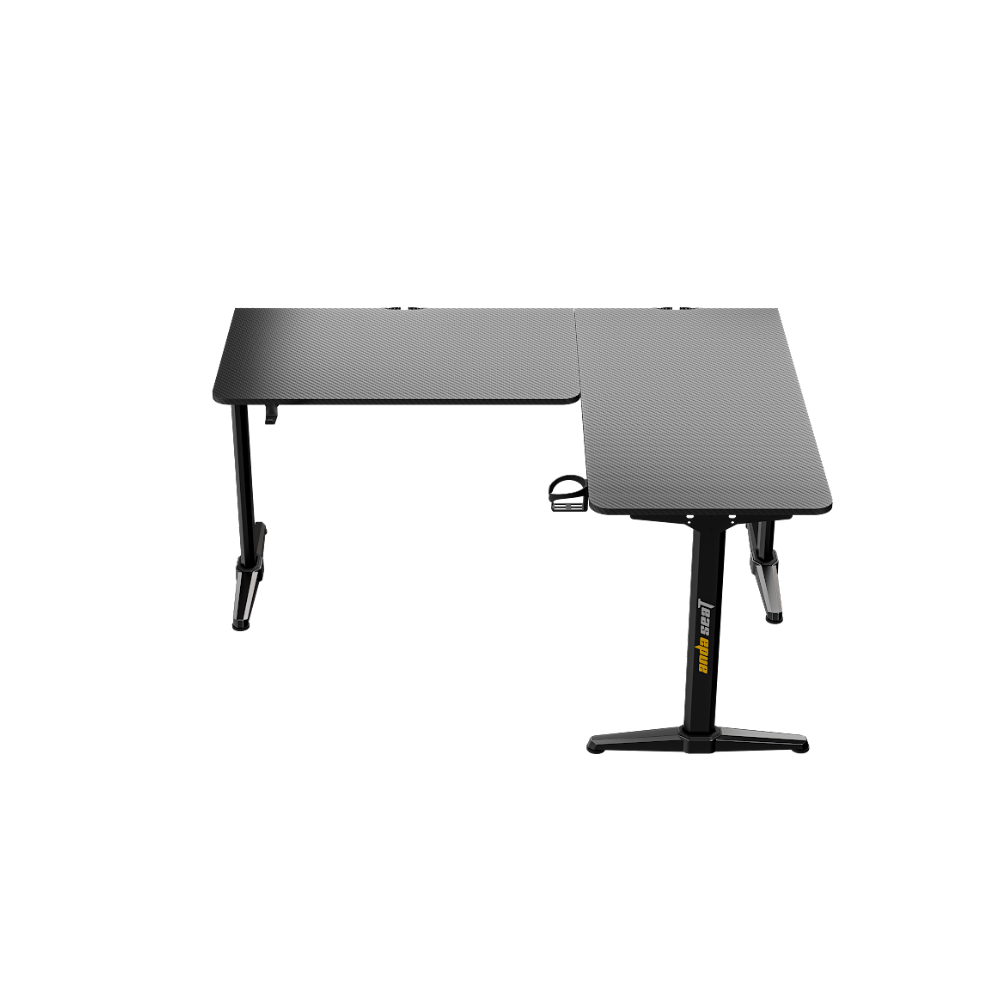 Anda Seat Wind Seeker Gaming Desk
Description

Specifications

What's In The Box?

Warranty

Shipping

Why Buy From Us?
Win every battle with the Anda Seat Wind Seeker gaming desk
Attention, gamers! Get ready to win every battle, destroy every boss and blow away your enemies with the Anda Seat Wind Seeker gaming desk. It's the ultimate cornerstone for every gaming battle.

Say goodbye to ordinary and hello to extraordinary with Wind Seeker's innovative features that cater to every gamer's dream.
Whether you are a seasoned pro gearing up for the next tournament or a hobbyist seeking comfort for those long gaming nights, the Wind Seeker desk stands tall as your reliable partner, promising unbeaten performance and style.
Key features
Extra-wide L-shaped desktop: Offers expansive space and an ergonomic layout, encouraging a healthy posture while providing ample room for all your gaming equipment
Ergonomic curved surface design: Enhances immersion during gaming sessions, allowing for a comfortable and natural setup that wraps around you
Futuristic carbon fibre desktop: Not only lends a sleek, modern aesthetic to your gaming space but also offers high temperature resistance, ensuring durability and a cool surface during intense gaming sessions
Upgraded anti-slip surface: Keeps your gaming gear securely in place, preventing any unwanted accidents and maintaining a neat and tidy setup
Integrated cable management system: Say goodbye to clutter with a designated space for all your cables, keeping your gaming area neat and organized for a more focused gaming experience
Heavy-duty construction with carbon steel frame: Ensures stability and durability, supporting a substantial load up to 100kg and offering resistance to wear and rust, safeguarding your investment for years to come.
Rotatable cup holder: Allows easy access to your beverages, preventing spills and keeping you hydrated during those long gaming sessions
Integrated headphone stand: Keeps your headphones within reach and your desk clutter-free, promoting an organized and efficient gaming environment
Adjustable feet: Ensures stability on uneven floors, providing a rock-solid foundation for your gaming setup
Plenty of legroom: Ensures comfortable seating for extended periods, allowing you to game on without feeling restricted
Built to the highest standard: Guarantees a product crafted with precision and high-quality materials, promising you a desk that meets the standards of the most discerning gamers
Shop with confidence: Backed by a two year limited warranty
Sleek and stylish carbon fibre desktop
Make a statement with the Wind Seeker's futuristic carbon fibre desktop, designed not just to catch eyes but to elevate your gaming setup to a league of its own.

This is where high strength meets high-temperature resistance, meaning it can withstand the heat of battle and come out victorious every time.

Plus, thanks to the upgraded anti-slip surface, your gear stays right where you want it, giving you peace of mind as you immerse in your gaming adventures.
Ergonomically designed for immersive gaming
Picture this: an extra-wide, L-shaped desktop sporting a curved surface design that wraps around you, pulling you right into the heart of the action.

Whether you're clocking in hours at work or dominating in the gaming realm, the dual desktop areas offer ample space for every device, document, and doodad you need at your fingertips.
No more cable chaos
Let's face it, a tangle of cables can be a real vibe killer.

The Anda Seat Wind Seeker is here to banish cable chaos for good with its genius cable management hub located at the back, complete with cable slots, hubs, and armour. So, gear up and game on without a hitch!
Built to endure the toughest battles
This beast comes with a promise of unwavering stability, bearing weights up to a whopping 100kg with ease thanks to its carbon steel table base.

Anti-wear and anti-rust, this desk is prepared to stand tall and look good doing it through marathon gaming sessions, giving you ample legroom to stay comfortable and in command.
Built to the highest standard
Built to the highest standards, the Wind Seeker gaming desk is a testament to Anda Seat's commitment to quality.

Every inch of this desk, from the robust carbon steel base to the futuristic carbon fibre desktop, echoes a dedication to excellence, promising a gaming experience that is both immersive and unequivocally premium. It's not just about gaming; it's about gaming with the best, a standard of excellence that you not only deserve but have rightfully earned.
Primary Format - Games
Multi-Format

Games accessory type
Gaming desks

Colour
Black

Assembled Product Weight
30kg

Assembled Product Height, Top to Bottom
75cm

Assembled Product Width, Side to Side
160cm

Assembled Product Depth, Front to Back
120cm
Manufacturer's warranty
1 Year
Anda Seat Wind Seeker gaming desk
Installation accessories
Assembly manual
All Anda Seat products are backed by a two year limited warranty. This warranty covers you against manufacturer defects.

If for some reason your Anda Seat item doesn't work as expected, simply contact us and we'll either repair your item under warranty or we may be able to offer a refund/exchange. Again, if for some reason your item doesn't work as expected, contact us right away and we'll sort out any issues ASAP.
You might have some questions about shipping times and costs. So, let's cover some of those questions for you.
How long will it take for my order to arrive?
We've partnered with Australia's fastest couriers to make sure you get your order FAST.

99% of our orders are shipped within one business day. That means if you order on a Monday, we'll usually ship same day or the next business day (Tuesday).

Your order will usually arrive in 3 to 5 business days. Of course, this depends on where you're located. If you live in a metro area, you can expect your order to arrive within 3 days.

If you live outside a metro area, you order will usually take a little longer to arrive. We recommend you allow 5 business days for your order to arrive.

The moment your order is on the way, we'll send you tracking details via email. That means you'll be able to keep an eye on your order and see where it is at any point in time.

Of course, if you have any questions or queries in relation to your order, simply email us, call (03) 9961 0240 or open the live chat function. We'll help you in any way we can.
How much is shipping?
Shipping costs depend on item weight and shipping destination. We'll do everything we can to ensure you receive the best shipping rates available.

Shipping is calculated in checkout. Simply fill in your address details and our shipping calculator will show the final shipping cost.

A lot of items we sell include free shipping. If an item is labelled free shipping, you won't pay a single cent for shipping.
What if I'm not home when my order arrives?
No stress. If you're not home, our couriers will drop your order off at the nearest depot or post office.

Contact details will be left at your door or in your mailbox so you can organise redelivery.
Hey what gives, it's been more than a week and my order hasn't arrived. Where is it?
No worries. The first thing we recommend you do is check your tracking details. It may just be that your order was held up a little.
If your tracking details don't shed any light on where your order is, contact us on (03) 9961 0240 and we'll help work out where your order is.
If you've clicked on this tab, you're obviously looking for a reason or two on why you should shop for your gaming goodies at Gamer Gear Direct, rather than those other online stores.

And we'll (not so) humbly say there are SEVEN reasons we think you should shop with us and not hand over your hard-earned cash at one of those big box retailers like Harvey Norman or JB Hi-Fi.
REASON #1: 100% customer satisfaction GUARANTEED (if you're not happy then neither are we – simple as that)
We'll bend over backwards to ensure you are 100% happy and satisfied with your order and our world-class customer service. We want you to rave about your experience with us to your friends and family.

But we know that'll only happen if we treat every customer like you're the most important customer in the world. And you are! Without you we wouldn't be in this business. We've only got to where we are today by treating our customers to a high level of service that you'll rarely find online.

We'll literally bend over backwards to ensure your experience with us is one you'll shout about to your neighbour or mates at work. See, we're not one of those big box electronics stores with a multi-million marketing budget. Those companies treat you like a number. Because they can afford to! They've got money coming out of their ears.

We're different. We're a small Aussie owned and operated business. Every single potential customer that hits our website is precious to us (that includes you). So, again, we'll do everything we can to make sure you're over the moon with your Gamer Gear Direct shopping experience.

Do you think Harvey Norman can promise that kind of service?

Probably not. In fact, I'd bet my house they won't. But look, you don't have to take my word for it. Here's what our customers are saying about us…

Ashley Woolnough says: 'I want to say a huge thank you to Blake and the team at Gamer Gear Direct. The service has been absolutely impeccable from the moment I first looked at items to the moment they were delivered. I bothered Blake quite a bit, but nothing was too much trouble and he went above and beyond to help me. 5-star service'.

Luke H. had this to say: 'Amazing, Excellent Service. I'm very impressed. Well informed staff and good quality selection of Sim Racing gear. Staff even went above and beyond to answer a query regarding whether a certain set of pedals would properly mount to a specific cockpit by testing it themselves on my behalf. Delivery is ridiculous fast and free. Less than 24 hour delivery to Sydney NSW which is impressive. Definitely my go to place for all future gear'.

And this from Brendan: 'Hands down the best online supplier in Australia atm. Customer service is above an beyond any other Australian company. Blake is always happy to try an keep the customer as happy as possible an with the best deal. I will be back...a forever shop and first stop when hunting any sim upgrade.'
That's not an exhaustive list, either. There are plenty more happy customer stories we could share with you. But let's move on to reason number two…
REASON #2: Five-star customer support
We're around to support you and help you out with your questions and queries between normal business hours (Mon to Fri, 9am to 5pm).

We understand a lot of our customers (like you) are busy individuals.
Sometimes, you've only got time to peruse our website when you're sitting down on the couch, chilling out after a hard day at work (maybe with a cold beverage in hand).

If you need a hand with anything, or you've got a question. Just tap on the live chat widget (at the bottom right of screen), email us (support@gamergeardirect.com.au) or call on (03) 9961 0240.
REASON #3: Shop with confidence thanks to our 30 day return policy
The moment you buy anything (yes, anything!) from Gamer Gear Direct you're automatically covered by our 30-day return policy.
Buy today and if your item is not performing as it should or is faulty just return inside those first 30 days, in 'as new' condition for a refund or exchange. Please note that our return policy does not cover 'change of mind' purchases.

On top of our 30-day return policy, you're also covered by a manufacturers' warranty. Every product we sell is covered by a MINIMUM 6-month warranty (most are covered by a 1 year or better warranty).

When you buy from us, you're buying top quality, brand name products (no crap 'grey import' products here), that'll do exactly what they say on the box.
You'll find more details on our return policy HERE.
REASON #4: We're competitive on our prices. If you see a Gamer Gear Direct product cheaper online, contact us and we'll see if we can work out a deal
That doesn't mean we'll always beat the competition on price. Some of the big-name stores bulk up big time on products. We're still competitive, but may not have the margin to beat them.

That aside, our prices are easily some of the cheapest you'll find online. Plus, when you bundle several items together, we're more than happy to chat about a bundle discount

Hit us up and we'll chat more about price (you can open the chat widget at the bottom right of screen and start a conversation).
REASON #5: Fast shipping Australia wide
When you're shopping online, you want your order delivered fast, right? We understand. That's why 99% of our orders are shipped within one to two business days from the time you order.

Your order will usually arrive at your doorstep within 3 to 5 business days from the day you ordered. Doesn't matter whether you order a 50kg racing simulator cockpit or a mousepad, we'll make sure you get your order in super quick time.

We use the fastest couriers in the country to make sure you get your order in record time.

You can track your order the entire time, too. As soon as your order is on the way we'll send you an email with tracking details, so you can keep your eye on where your order is the entire time.

Of course, if you have any questions or queries about your order simply email or call us and we'll help you in any way we can.
REASON #6: Every product from Gamer Gear Direct is covered by a manufacturer warranty
Nothing worse than buying something online and it's faulty, right?

We feel you.

That's exactly why every item we stock is covered by a minimum 6-month warranty.

If the product you ordered from us doesn't work right, simply return it to us and we'll get it fixed for you under warranty.

Or if we can't have it fixed, we'll provide you with a replacement item as soon as possible.
REASON #7: Safe and 100% secure checkout
Our shopping cart is fitted with SSL encryption.

What the hell does that mean, you ask?

Well, that simply means all your data is 100% secure when you shop on the Gamer Gear Direct website.

We don't save or share any of your payment details. Nor are those precious details stored anywhere on our website.

So, there you have it. There are our 7 big reasons on why you should buy all your sim goodies from us and not the competition.

Remember, we are always happy to chat with you at any time. You can open a live chat (at bottom right of screen). Email us at support@gamergeardirect.com.au or give us a call on (03) 9961 0240.