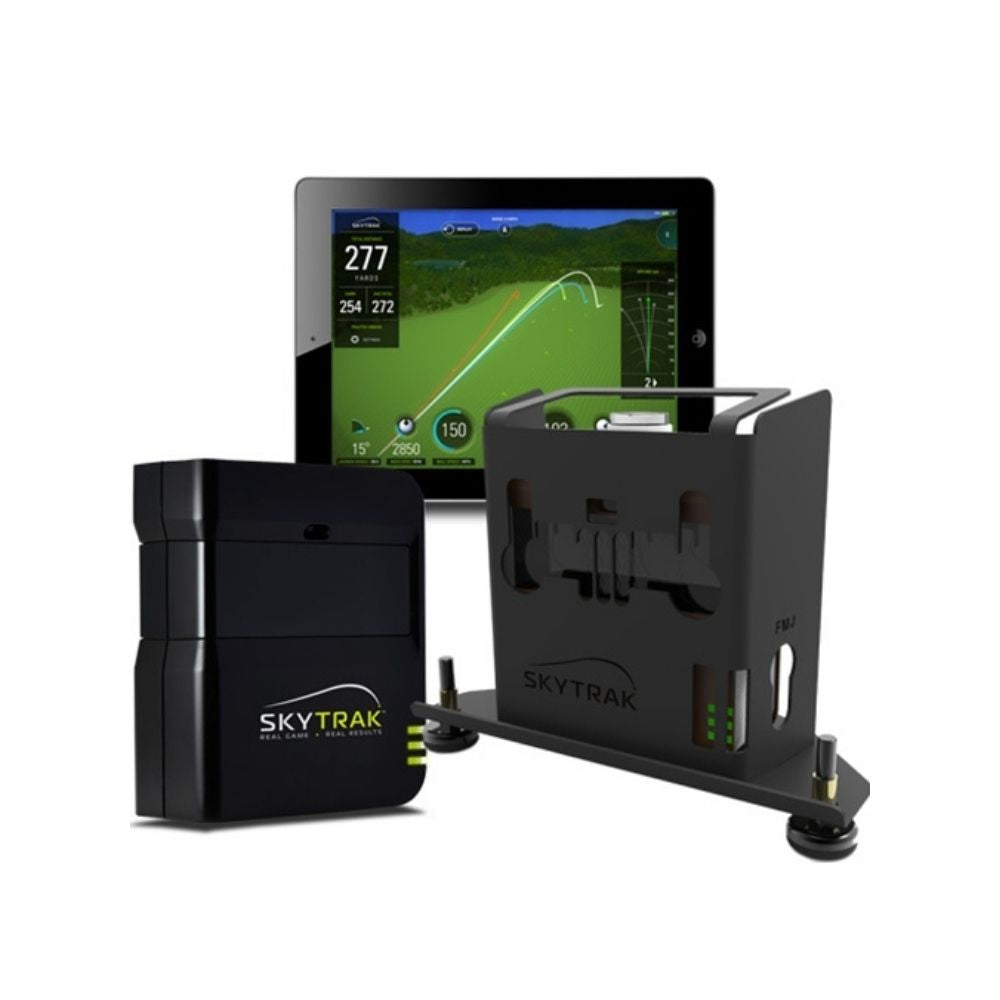 SkyTrak Launch Monitor Bundle
Description

Specifications

What's In The Box?

Reviews

Warranty

Shipping

Why Buy From Us?
Next level golf simulation is HERE. The SkyTrak launch monitor bundle is perfect for any serious golfer who wants the immersive and realistic golf simulation experience around

The SkyTrak launch monitor bundle includes the uber-popular SkyTrak launch monitor, a genuine SkyTrak protective metal case and a bonus 12 month subscription to SkyTrak's Game Improvement software.
It's everything you need for your own practice range at home, rain or shine, 365 days a year! Work on your ball-striking, your shot-shape, launch angle and more without leaving home or wasting the time it takes to get the range.
You can hit balls with any club in your bag at any time and display a highly accurate rendering of your ball flight in a brilliant 3D environment. With the SkyTrak and Game Improvement software you can hit at simulated targets, play challenges, participate in games and enjoy your practice time more than ever before.
Upgrade to The Golf Club 2019 lifetime access (just $1,499 extra) and you can play on over 170,000 golf courses from all over the world in stunning ultra HD graphics. All you need is your SkyTrak and a complimentary golf simulator bay.
There is simply nothing that compares to the SkyTrak at this price point. The revolutionary technology packed inside the SkyTrak provides all the accuracy, reliability and fun of a commercial golf simulator for a fraction of the price.
Seriously, until SkyTrak came along, you could expect to pay $10,000, $20,000…even $50,000 for the same level of accuracy and realism from a golf simulator. SkyTrak is revolutionary in terms of price, performance and its ability to provide quality practice, addictive challenges and fun for you, your friends and your family without ever leaving home.
More details below. First, let's cover some of the standout features packed into this incredible golf simulator unit…
Key features
Breakthrough software makes the SkyTrak Launch Monitor the most realistic, accurate (and affordable!) golf simulator on the market today
Upgrade your purchase to include lifetime access to The Golf Club 2019 and play on more than 170,000 golf courses from around the world (for an extra $1,499)
Same tech you'll find in $50,000 commercial golf simulators – for under $4K!
INCLUDED: Genuine SkyTrak protective metal case and 12 month subscription to SkyTrak's game improvement subscription software
Quickly and easily connects to your smart device or PC. Set up within minutes!
You can take the SkyTrak anywhere. WiFi enabled and includes an internal battery for maximum portability
Receive instant feedback from SkyTrak's 'Shot-Tracer' technology. Instantly see your shot shape, launch angle, spin rate, carry distance, and much more to improve your game
SkyTrak accurately captures, displays and contrasts your ball flight data. Key measurement parameters include: ball speed, launch angle, side spin, back spin, side spin, side angle and more. You'll get more feedback on your swing from the SkyTrak than actually playing on the course!
Free SkyTrak app Is 100% compatible with PC and iOS and all smart devices
Shot-Tracer provides views from multiple camera angles for more in-depth swing analysis
Fully customize your environment including weather and course conditions
Backed by a 12 month warranty and lifetime tech support
Here's EVERYTHING you need to know about the SkyTrak launch monitor bundle...
Revolutionary, commercial-grade simulation technology provides incredibly accurate data including ball flight, launch angle, distance and much, much more
The SkyTrak's camera-based launch technology captures high-speed images of the ball immediately after impact. The images captured are used to measure parameters necessary to render shot shape and carry distance.
You get immediate feedback on every shot with instant 3D visualization, powered by SkyTrak's advanced flight model and ball spin measurement. Most simulators, even those costing more than $10,000 and up to $50,000, do not produce results that are representative of your actual ball striking ability.
SkyTrak is designed to give you the same feedback you would get at the course hitting your balls with your clubs.
SkyTrak is a fun, yet serious tool designed specifically to help you improve your game.
For the first time, you can afford a reliable simulator that provides the accuracy of a commercial-grade launch monitor that could cost $10,000 or more.
Upgrade your purchase and get lifetime access to The Golf Club 2019. Play on more than 170,000 golf courses from all over the world in eye-popping HD graphics
The Golf Club 2019 is one of the best golf simulation titles on the market today. You get instant access to 170,000+ golf courses from around the world. There's no other golf simulation title that comes close to this number of courses.
Every course is rendered in mind-blowing ultra HD 4K graphics. Thanks to the stunning, lifelike visuals, you'll feel like you're actually hitting a few rounds on your favourite courses.
On top of the great graphics, you get online multiplayer functionality, online tournaments and events and you can even create your own golf courses.
Please note: TGC 2019 is compatible with PC ONLY.
Quickly set up your SkyTrak within minutes – it couldn't be any easier!
After downloading the free app, your SkyTrak connects easily to compatible iPads, Androids, and PC's via its built-in WiFi hotspot. Once connected, you're ready to start hitting shots on the SkyTrak 3D Practice Range anywhere at any time.
There are no wires to connect and the SkyTrak launch monitor packs its own battery for total portability. Practice and play rain or shine, 365 days a year, in the comfort of your home — even in limited space. Place a ball on a hitting mat or level ground and swing away.
The system is embedded with its own rechargeable battery and serves as its own Wi-Fi hotspot so it can operate with no wires, cables or tethering. Connect wirelessly to a device and generate launch data in seconds.
Hyper-accurate 'Shot Tracer' technology provides instant feedback for super realistic golf simulation
With SkyTrak Shot-Tracer technology, you can see the ball fly on your iPad, Android, or PC, and receive instant feedback on the shot shape, launch angle, spin rate, carry distance, and much more to improve your game.
And because Shot-Tracer uses multiple camera angles, you'll get far more practical information on your skill level than actually being out on the course. Here's just a snapshot of what SkyTrak's breakthrough 'Shot Tracer' technology gives you…
3D Practice Range: Enjoy a better view of your shots and the results of your swing hitting your ball with your clubs than you would have at the range.
Ball Performance Data: Your ball flight data on individual shots is captured and displayed automatically to include: Measured ball speed, launch angle, back spin, side spin, and side angle (deviation from target line). You will also receive calculated club head speed as well as carry distance, offline distance from target line and total distance for each shot.
First Person Camera View: View ball flight from down the line (as if you were standing behind the ball looking at the target) and track your shot shape through the air.
Shot Replay: Touch the replay button to see that great drive again or analyse the one you'd rather forget.
Accurately track your performance and boost your skill level FAST
Powered by breakthrough, commercial-quality launch monitor technology, SkyTrak accurately captures, displays and contrasts your ball flight data.
Key measurement parameters include; ball speed, launch angle, side spin, back spin, side spin, side angle and more.
SkyTrak is the first affordable practice, play and entertainment simulator that provides realistic results that compare accurately to your actual shot-making ability.
FREE 12 month subscription to SkyTrak's Game Improvement Plan software (Value $170)
The Game Improvement software from SkyTrak adds significantly more game improvement features, challenges and progress tracking to make you better and have more fun. Show off your skills and test your improvement against friends or just have more fun with family.
The Game Improvement Plan includes all these awesome features…
Longest Drive Contest – The long drive competition provides golfers the opportunity to test their accuracy and distance with the driver. Can be used in Single of Multiple Player mode to add some competitiveness to your session or to challenge your friends.
Closest to the Pin Contest – Customize your target distance to the pin and get started. This challenge provides a detailed look at your ball flight with a focus on precision and will keep you coming back to beat your best shot, best friend or family member.
Target Practice – This challenge provides you with the opportunity to select a target size – easy, medium or hard, and set the distance to the bull's eye centre. Shots are scored based on the accuracy of the shot. Practice your short game inside 100 yards or work on your driver accuracy with longer range targets. Single or multiplayer mode available.
Skills Assessment – Configure up to 10 target stations and the number of shots on each, then work your way through your bag. Over time with repeatable sessions tailored specifically to you, you'll soon be able to spot strengths and weaknesses in your game.
Custom Settings - Change the practice range turf conditions from normal to soft or firm. Adjust environmental factors such as humidity and wind conditions to learn the effects of different conditions on your distances for better club selection and lower scores.
5 Camera Views – Adds more camera views to include: first person, dynamic, downrange, follow the ball or 45 degree overhead view.
Session History - Stores shot data to analyse your performance and improvement over an entire session in a shot history table and graphically render a side and top view of shots, average distance with each club, and much more.
Progress Tracking, Charts and Graphs – You can track your progress, and know their distances and numbers for a better understanding of their game with Cloud Storage in your personal data locker provided via SkyGolf 360 mobile app.
Protect your investment with a genuine SkyTrak metal protective case (value $300)
The SkyTrak Protective Metal Case is the official metal case authorized for use with the SkyTrak.
Laser cut from 13-gauge steel with a durable wrinkle-finish powder coat finish. This strong and durable case offers great protection from light drops, scratches and bumps. It is a great way to protect your investment.
The smart design allows you to plug in a wall charger without removing your SkyTrak. Easily access the power button and see the LED'S through the precisely positioned openings.
Comes with adjustable legs for levelling out your SkyTrak.
NOTE: We always recommend the use of an impact bag next to the SkyTrak to deflect any direct club strikes. Do not intentionally hit the SkyTrak case or SkyTrak with balls or clubs. Damage to the SkyTrak due to club or ball strikes are not covered under warranty.
SkyTrak Unit

Photometric launch monitor
Accelerometer-based internal leveling system
No calibration required
Dimensions: 5.75in L x 6.75in H x 2.5in W
Weight – 1.7lbs

Launch Data Accuracy

Ball Speed: 0 – 200mph +/- 1mph
Launch Angle: 0 – 55° +/- 1°
Back Spin: 0 – 12,000rpm +/- 250rpm
Side Spin: 0 – 4,000rpm +/- 250rpm
Side Angle: 0 – 20° +/- 2°

Power and Battery

Built-in rechargeable lithium-ion battery
Up to 5 hours of continuous use
Micro USB charging cable included
Wireless Connectivity Options
Connects directly to iPad Wi-Fi (NO Internet access in this mode)
Connects to iPad Wi-Fi through router/home network (Internet Access available)
Includes US power plug

Hardware Compatibility

iOS:

SkyTrak requires 3D graphics support. The following passed compatibility testing:

iPad Air or newer
iPad Mini 2 (with Retina Display) or newer
iPad Pro
iPhone 6 or newer

Android:

The following Android devices have been tested in-house and are officially approved for use with SkyTrak. In general, we have seen best results with newer Android devices containing Octa-core (or dual quad-core) processors. We will continue to test more devices and will update this list accordingly.

Google Pixel C
Samsung Galaxy Tab S3
Samsung Galaxy S6
Samsung Galaxy Tab S2
Samsung Galaxy S8

PC:

Windows 7, 8, or 10

Intel Core 2 Duo @ 2.0GHz or higher

2GB RAM or higher

Third-party golf simulation software requirements vary by provider.
1x SkyTrak launch monitor
1x USB charging cable
1x Metal SkyTrak case
Free 12 month subscription to SkyTrak Game Improvement Plan
Easy-to-read instructions
SkyTrak is covered by a 30 day money back guarantee and a 12 month warranty. This warranty covers you against defects. 
If for some reason your item doesn't work as expected, simply contact us and we'll either repair your item under warranty...or we may be able to offer a refund/exchange.
Again, if for some reason your item doesn't work as expected, contact us right away and we'll sort out any issues ASAP.
You might have some questions about shipping times and costs. So, let's cover some of those questions for you.
How long will it take for my order to arrive?
We've partnered with Australia's fastest couriers to make sure you get your order FAST.

99% of our orders are shipped within one business day. That means if you order on a Monday, we'll usually ship same day or the next business day (Tuesday).

Your order will usually arrive in 3 to 5 business days. Of course, this depends on where you're located. If you live in a metro area, you can expect your order to arrive within 3 days.

If you live outside a metro area, you order will usually take a little longer to arrive. We recommend you allow 5 business days for your order to arrive.

The moment your order is on the way, we'll send you tracking details via email. That means you'll be able to keep an eye on your order and see where it is at any point in time.

Of course, if you have any questions or queries in relation to your order, simply email us, call (03) 9961 0240 or open the live chat function. We'll help you in any way we can.
How much is shipping?
Shipping costs depend on item weight and shipping destination. We'll do everything we can to ensure you receive the best shipping rates available.

Shipping is calculated in checkout. Simply fill in your address details and our shipping calculator will show the final shipping cost.

A lot of items we sell include free shipping. If an item is labelled free shipping, you won't pay a single cent for shipping.
What if I'm not home when my order arrives?
No stress. If you're not home, our couriers will drop your order off at the nearest depot or post office.

Contact details will be left at your door or in your mailbox so you can organise redelivery.
Hey what gives, it's been more than a week and my order hasn't arrived. Where is it?
No worries. The first thing we recommend you do is check your tracking details. It may just be that your order was held up a little.
If your tracking details don't shed any light on where your order is, contact us on (03) 9961 0240 and we'll help work out where your order is.
If you've clicked on this tab, you're obviously looking for a reason or two on why you should shop for your gaming goodies at Gamer Gear Direct, rather than those other online stores.

And we'll (not so) humbly say there are SEVEN reasons we think you should shop with us and not hand over your hard-earned cash at one of those big box retailers like Harvey Norman or JB Hi-Fi.
REASON #1: 100% customer satisfaction GUARANTEED (if you're not happy then neither are we – simple as that)
We'll bend over backwards to ensure you are 100% happy and satisfied with your order and our world-class customer service. We want you to rave about your experience with us to your friends and family.

But we know that'll only happen if we treat every customer like you're the most important customer in the world. And you are! Without you we wouldn't be in this business. We've only got to where we are today by treating our customers to a high level of service that you'll rarely find online.

We'll literally bend over backwards to ensure your experience with us is one you'll shout about to your neighbour or mates at work. See, we're not one of those big box electronics stores with a multi-million marketing budget. Those companies treat you like a number. Because they can afford to! They've got money coming out of their ears.

We're different. We're a small Aussie owned and operated business. Every single potential customer that hits our website is precious to us (that includes you). So, again, we'll do everything we can to make sure you're over the moon with your Gamer Gear Direct shopping experience.

Do you think Harvey Norman can promise that kind of service?

Probably not. In fact, I'd bet my house they won't. But look, you don't have to take my word for it. Here's what our customers are saying about us…

Ashley Woolnough says: 'I want to say a huge thank you to Blake and the team at Gamer Gear Direct. The service has been absolutely impeccable from the moment I first looked at items to the moment they were delivered. I bothered Blake quite a bit, but nothing was too much trouble and he went above and beyond to help me. 5-star service'.

Luke H. had this to say: 'Amazing, Excellent Service. I'm very impressed. Well informed staff and good quality selection of Sim Racing gear. Staff even went above and beyond to answer a query regarding whether a certain set of pedals would properly mount to a specific cockpit by testing it themselves on my behalf. Delivery is ridiculous fast and free. Less than 24 hour delivery to Sydney NSW which is impressive. Definitely my go to place for all future gear'.

And this from Brendan: 'Hands down the best online supplier in Australia atm. Customer service is above an beyond any other Australian company. Blake is always happy to try an keep the customer as happy as possible an with the best deal. I will be back...a forever shop and first stop when hunting any sim upgrade.'
That's not an exhaustive list, either. There are plenty more happy customer stories we could share with you. But let's move on to reason number two…
REASON #2: Five-star customer support
We're around to support you and help you out with your questions and queries between normal business hours (Mon to Fri, 9am to 5pm).

We understand a lot of our customers (like you) are busy individuals.
Sometimes, you've only got time to peruse our website when you're sitting down on the couch, chilling out after a hard day at work (maybe with a cold beverage in hand).

If you need a hand with anything, or you've got a question. Just tap on the live chat widget (at the bottom right of screen), email us (support@gamergeardirect.com.au) or call on (03) 9961 0240.
REASON #3: Shop with confidence thanks to our 30 day return policy
The moment you buy anything (yes, anything!) from Gamer Gear Direct you're automatically covered by our 30-day return policy.
Buy today and if your item is not performing as it should or is faulty just return inside those first 30 days, in 'as new' condition for a refund or exchange. Please note that our return policy does not cover 'change of mind' purchases.

On top of our 30-day return policy, you're also covered by a manufacturers' warranty. Every product we sell is covered by a MINIMUM 6-month warranty (most are covered by a 1 year or better warranty).

When you buy from us, you're buying top quality, brand name products (no crap 'grey import' products here), that'll do exactly what they say on the box.
You'll find more details on our return policy HERE.
REASON #4: We're competitive on our prices. If you see a Gamer Gear Direct product cheaper online, contact us and we'll see if we can work out a deal
That doesn't mean we'll always beat the competition on price. Some of the big-name stores bulk up big time on products. We're still competitive, but may not have the margin to beat them.

That aside, our prices are easily some of the cheapest you'll find online. Plus, when you bundle several items together, we're more than happy to chat about a bundle discount

Hit us up and we'll chat more about price (you can open the chat widget at the bottom right of screen and start a conversation).
REASON #5: Fast shipping Australia wide
When you're shopping online, you want your order delivered fast, right? We understand. That's why 99% of our orders are shipped within one to two business days from the time you order.

Your order will usually arrive at your doorstep within 3 to 5 business days from the day you ordered. Doesn't matter whether you order a 50kg racing simulator cockpit or a mousepad, we'll make sure you get your order in super quick time.

We use the fastest couriers in the country to make sure you get your order in record time.

You can track your order the entire time, too. As soon as your order is on the way we'll send you an email with tracking details, so you can keep your eye on where your order is the entire time.

Of course, if you have any questions or queries about your order simply email or call us and we'll help you in any way we can.
REASON #6: Every product from Gamer Gear Direct is covered by a manufacturer warranty
Nothing worse than buying something online and it's faulty, right?

We feel you.

That's exactly why every item we stock is covered by a minimum 6-month warranty.

If the product you ordered from us doesn't work right, simply return it to us and we'll get it fixed for you under warranty.

Or if we can't have it fixed, we'll provide you with a replacement item as soon as possible.
REASON #7: Safe and 100% secure checkout
Our shopping cart is fitted with SSL encryption.

What the hell does that mean, you ask?

Well, that simply means all your data is 100% secure when you shop on the Gamer Gear Direct website.

We don't save or share any of your payment details. Nor are those precious details stored anywhere on our website.

So, there you have it. There are our 7 big reasons on why you should buy all your sim goodies from us and not the competition.

Remember, we are always happy to chat with you at any time. You can open a live chat (at bottom right of screen). Email us at support@gamergeardirect.com.au or give us a call on (03) 9961 0240.
We bought our SkyTrak and inside of 14 months the laser on one side stopped working. This is an adult owned never dropped, never hit, etc. device. Repairs for it are $252.50. The agent tells me it should NOT happened again and it should NOT fail again so either she's full of it or the original laser was of poor quality and they've learned that. I suspect you'll have to plan for a $250 annual repair plus fees for your courses so your annually fees may be $500 and up!
Great product, my game has improved so much since I started using this. I watch videos on YouTube on how to get better and my skytrak shows me what actually works.
Being able to just walk out into my back yard and it balls with feedback is great. It does have about a six sec delay but that gives me enough time to pick up the ball then look at the screen. I will only use two or three a hitting session. This way I'm not picking up 50plus at the end. Great tool to keep your skills up all year round.
I did not get this item for free or any other discounts. I researched ball flight trackers for months before making this purchase and I could not be happier. The setup is extremely simple. The ball flight is amazingly accurate. I have a basic setup in my garage with a carl's golf screen and a projector and it could not be more fun. Great for going out and just using it as a driving range and also great for full simulated play.
I did not want to spend the money on this but I'm so glad I did, Funny, I was already preparing to return it, because I thought for sure I wouldn't like it.It works awesome, I know my swing and it picked up my habits right away. Know I've been working on correcting my swing, Trust me Skytrak is legit.Now I just hope it last, once in a while it might not pick up a shot, but just use bright white balls and put a mark on it then you are ready to go.I would say that 1 in 15 shots might not get picked up.Buy, you'll be happy you did.